Retirement Wishes and Messages (Updated with Images)
When a coworker retires, part of your community leaves. You miss the laughter and shared frustration that you enjoyed. There are more memories than you can count. Which ones would you share publically? Which ones are best kept between the two of you? How do you wish someone that special a wonderful retirement and let him or her know how much they will be missed?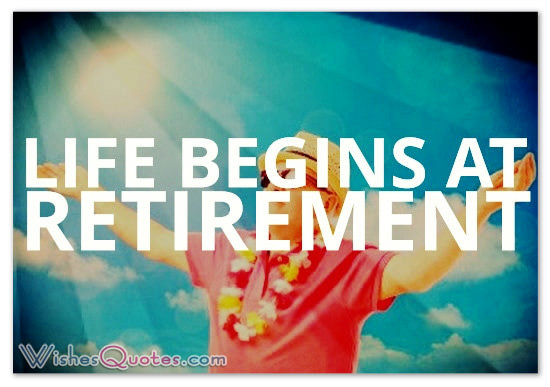 24 Amazing Happy Retirement Wishes
Retirement opens the door to new opportunity. I can't come with you in your new endeavors, but my highest hopes for your future can. Happy retirement.
Here's to you and your family: success and a bright future with the time to do the things you have always wanted to do. You will be missed.
We will miss your wisdom and experience, but most of all, we will miss the encouragement you have been to us. We wish you the happiest of retirements.
My best wishes on your retirement. You have a bright future ahead of you; enjoy it.
You are the kind of people that brings the best in others! Thank you for everything you did. Wishing you a life full of success and happiness!
Having someone like you as a coworker has been no less than a gift. Wishing you a wonderful retired life ahead!! You will be missed, but never forgotten.
I wanted you to know what a blessing it's been to work with you over these past few years. Hope you'll enjoy every minute of your retirement. We're really going to miss you!
Retirement isn't all it is cracked up to be. It isn't for us, anyway. Enjoy your well-deserved freedom and know you will be missed.
I will miss your sunny disposition, your friendly smile, the donuts you brought in. Wait, it was you who brought the donuts, right? Happy retirement.
This card is just a tangible expression of my heartfelt sentiments. I will miss you and all that you brought to the workplace. Congratulations.
Retirement means you will have more time to invest in the things you want to do. May your retirement lead to new success in whatever you pursue.
Retirement will be a difficult time for you: no getting up with an alarm, no boring staff meetings, no watching the clock tick down those last, long minutes before quitting time. However will you manage?
Retirement marks the culmination of a career spent achieving success in the business world and the genesis of a career in enjoying the fruits of that success. Happy retirement.
As you retire, remember that you have left behind a legacy of encouragement, achievement and work ethic that will always be part of your coworkers. Congratulations.
You will finally have time to ferret out that special fishing spot or to sleep through an afternoon game on TV. It couldn't happen to a nicer guy. Congratulations on your retirement.
Now that you are retiring, however will you catch up on the office gossip? I suppose we could email you updates once a week…Congratulations on your achievement.
The staff has never been "on the same page" about business plans or implementing policies, but we are all in agreement on this: you will be missed. Congratulations on your retirement.
Best wishes on your retirement. Enjoy the opportunity to do wonderful things just for you.
We took up a collection to get you a wonderful retirement gift. Unfortunately, the new stapler we picked out didn't seem appropriate. Oh well —it looks nice on my desk. Congratulations.
You have a wealth of information and experience that can never be replaced. So, if I need you, can I put you on "speed dial?" Congratulations on your retirement.
Enjoy the freedom your achievement has earned. Happy retirement.
Hey, remember the time we put the lavatory sign on the boss's office door and that lady went in? Ah, memories: we have so many to share. You will be missed.
However will you get along without seeing my face every day? Never mind, I'm sure you'll manage. Best wishes on your retirement.