Halloween Quotes, Scary Messages, Poems and Free eCards
Browse the best collection of Halloween Quotes, Unique Halloween Cards, Funny Halloween Messages, Scary Poems and spice up the Halloween festive mood! The Halloween spirit is in the air, and there are pumpkins in the windows and eerie decorations on the lawns. Lots of people join in on the fun this day by wearing costumes and throwing parties. Children go from house to house to collect treats. Halloween cards are exchanged by some people, so if you want to celebrate this fun holiday with an ecard and a message, let the following examples spark some ideas in your head. Halloween messages, whether they be serious or funny, are always a welcomed treat. Send a message on this holiday to let someone you know see you are thinking of them. Write it in a card or put it on Facebook. If you have a young child, tuck a funny Halloween message in your child's lunch box. Let the fun begin.
Halloween Messages
From goofy to ghoulish, here are 100 quotes, poems and card messages you can send to share in the fun of All Hallow's Eve this year:
Halloween fun is soon to begin. Hope your day is incredible and full of great treats. Have a bewitching night and a pleased Halloween.
Trick or treat, I think you're sweet on Halloween and always. May it be dreadfully creepy and scary and a whole lot of fun. Happy Halloween.
Halloween wishes are being sent your way for a pleasantly frightful day and a delightfully magical night. May the spirit of Halloween be with you.
Somebody told me you were going to wear a witch costume this Halloween. You could have fooled me because I thought you were already wearing one. Just kidding with ya. Have a Happy Halloween.
Trick or treat. You are so sweet, and it would be great if we could meet. Halloween greetings and best wishes for the Happiest Halloween ever.
In my search for the scariest looking costume, I realised nothing is more frightening than the clothes you wear. Okay, you win! Sincere Halloween wishes.
I love the skeleton in your yard. Is it the one you've been hiding in your closet all these years? Chuckles. Have a spooktacular Halloween.
Let the power of Halloween charge up your broomstick as well as your soul. Let the full moon bring all good things into your life.
What I love most about Halloween is, I get to eat a lot of the candy my kids collect. Life is good. Halloween makes it better. Have a sweet one.
You're never too old to dress up on Halloween, and you're never too old to get naked on a magical Halloween night. Have fun on Halloween, my friend.
I heard you'd like to be Superman for Halloween. No offence, but I think you'd be better as Peter from Family Guy. Have an enjoyable and laid back Halloween.
Do you know, some people believe the deceased come back from the dead to visit the living on Halloween? I hope all who come to visit you put a smile on your face this Halloween.
Halloween is a holiday that children of all ages can enjoy. I hope you and your inner child have loads of fun. Best Halloween wishes from someone who never wants to grow up.
If you see a pumpkin in my window, then you know it's Halloween. I hope that it's the kind of day that really makes you scream.
On Halloween, I hope you laugh until you cry, and I hope the Halloween treats you receive far outnumber the number of tricks played on you. Enjoy Halloween to the fullest.
When given the choice of a trick or a treat, I would take the latter. Knowing you has been the best treat of my life, which is why I'm wishing you the best on Halloween day.
Happy Halloween, Happy Halloween, Happy Halloween! Redundant? Yes. Boring? No. Hope yours is delightful, frightful, and sweet in every way. Hope it is a fun experience.
There's a black cat in the window and a pumpkin on my stoop. On the lawn are a ghost and a witch. This tells me Halloween is very near, so Happy Halloween to you.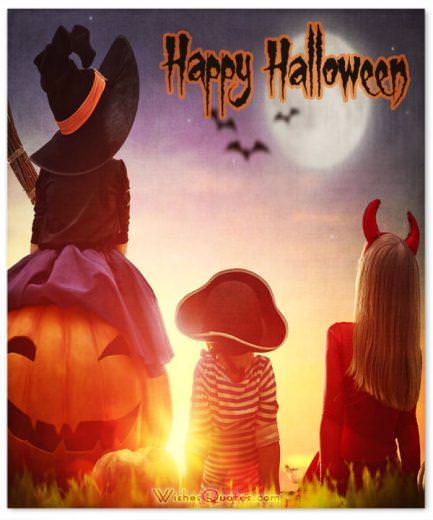 A talisman or amulet can bring you much good luck. So can this Halloween card, for in it is tucked good luck. Wishes for a Happy Halloween are also tucked inside.
Visions of witches on broomsticks fill me with delight and make me think of you in a good way. I hope your broom is tuned up and ready to go on a spellbinding Halloween adventure.
Happy Halloween to you…Hope it is a "spook"tacular one! Enjoy the yummy treats!
I hope your Halloween is all treats and no tricks…enjoy the candy and festivities!
Black cats skitter and ghouls patter by, it's time to celebrate as All Hallow's Eve has arrived!
Ghosts and goblins and jack-o-lanterns at night; I sure hope your Halloween is the best type of fright!
I hope you have a great Halloween and enjoy dressing up and getting lots of candy! Have a super fun night.
Witches and warlocks, spirits and spectres; give us some treats or prepare for some hecklers!
Let's carve out pumpkins on Halloween and enjoy the thrills of the frightful night. Have an awesome Halloween and enjoy all the tasty treats!
When witches go riding, and black cats are seen, the moon laughs and whispers, 'tis near Halloween.
I wish you have a happy Halloween filled with loads of great adventures! May the spirits and witches grant you all your wishes.
I wish you have a spooky time on Halloween. But don't get too scared though.
The witches and goblins are near! What a night of frightful cheers! Spread some spooky queers! For Halloween is here!
May your jack-o-lantern burn bright all through the night! Happy Halloween…hope it's the best one yet!
I hope you have an un-boo-lievably fun Halloween! Eat lots of candy and have a great time! May you only receive treats and no black cats cross your path this Halloween. Have so much fun!
Don't let any vampires suck the fun out of your night…have a frightfully festive Halloween!
Beware of the demons and witches and goblins…and of the houses that don't give full bars…have a super fun trick or treat and a great Halloween!
Yarrrgh! Ye be a mighty fine pirate this Halloween…be sure to scour for plenty o' plunder and take heed to the night!
Whether you dress like Garfield, Odie, or Pookie, I hope that your Halloween is spectacularly spooky! Happy Halloween.
Cauldrons and broomsticks take shape in the night, making your Halloween full of fun and of fright, don't cross any witches or fall under their spell, and your Halloween night will go perfectly well!
Zombies and monsters may lurk in the dark, jesters and vampires may even embark, but if you are ghoulish and ghostly wherever you're seen, you're sure to have such a wonderful Halloween!
Ballerinas and pirates will take to the streets; looking for candy and other good treats; if you don't have these items when they come to beg; you may find your house, then, covered in egg. Happy Halloween!
I hope you enjoy your Halloween festivities this year and carve some incredible jack-o-lanterns and create some fantastic costumes…have so much fun trick or treating!
Hayrides, candy, costumes, and more…I am sure you'll have a memorable Halloween that is sure to be a blast! Don't overeat candy, though…you better save some for me, too!
You know what they say…a caramel apple a day keeps the goblins away! Have an awesome Halloween and enjoy all the tasty treats!
This evening is filled with such incredible fright, the type of fear that comes with a terrible bite, and when it takes over there's only one thing to say, "Give us some candy or clean egg off your house all day!" Just kidding…Happy Halloween!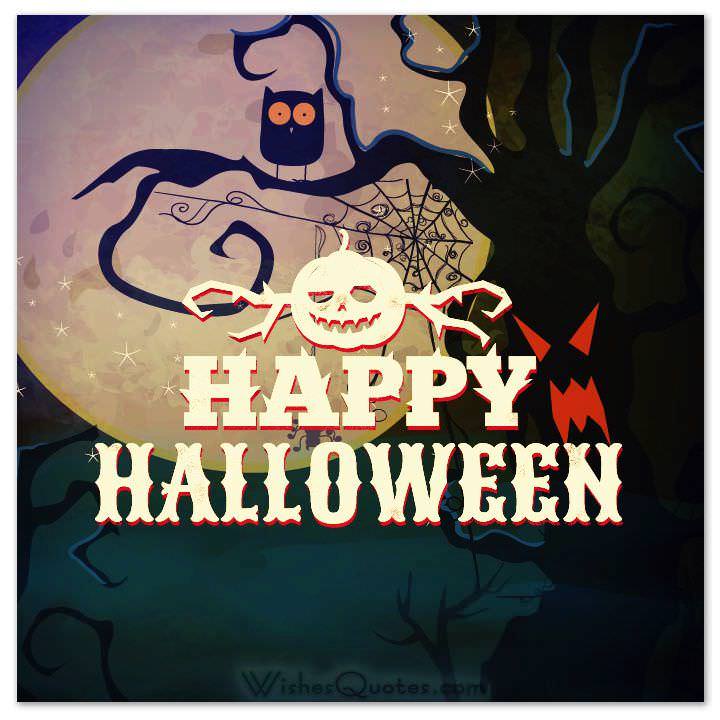 Halloween is my favorite time of year because it's the only time that I don't mind hearing you say "boo" all the time…even when your boyfriend is around…Happy Halloween!
You are going to be such an amazing princess this year! I hope you get lots of great candy and have a spectacular time! Happy Halloween! Let that tiara shine!
Why did the witch walk across the street? Boo-cause her broom was in the shop! Happy Halloween…have a "spook"tacular time this year!
Lions and Tigers and Twilight characters, oh my! This year's Halloween party is sure to be full of some great costumes…we can't wait to see you there! Happy Halloween!
Happy Halloween! I hope you enjoy all the fun festivities and have a super scary costume ready. Save some candy for us!
Who loves Halloween more than anyone else? No, not Dracula or Frankenstein…give up? The dentist…go easy on the candy this year so you don't have to see him again soon!
Halloween eCards & Greeting Cards
Halloween is a fun time of year filled with exciting costumes, bats yummy candy, and festive decorations. Whether you have friends that wait year round for the opportunity to don their Halloween attire and carve their jack-o-lanterns, or your buddies simply appreciate the holiday for a few good plays-on-words, here are some fun (and possibly witty) greeting cards you can share with them this Halloween season.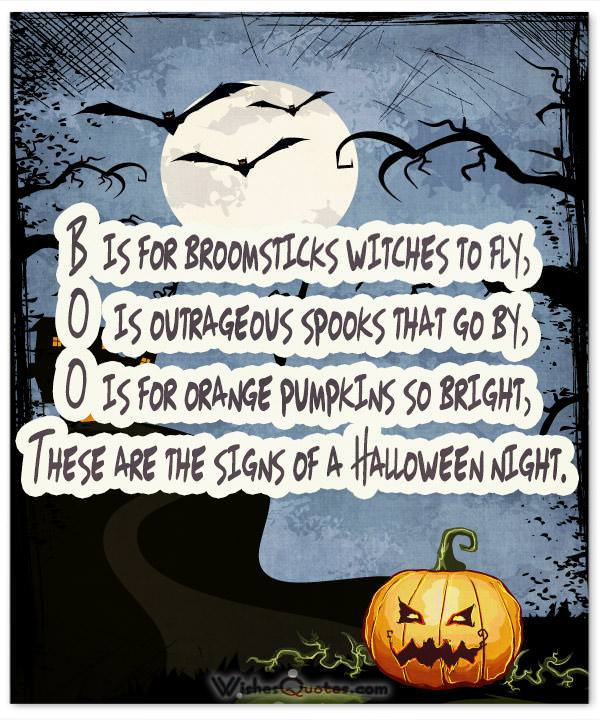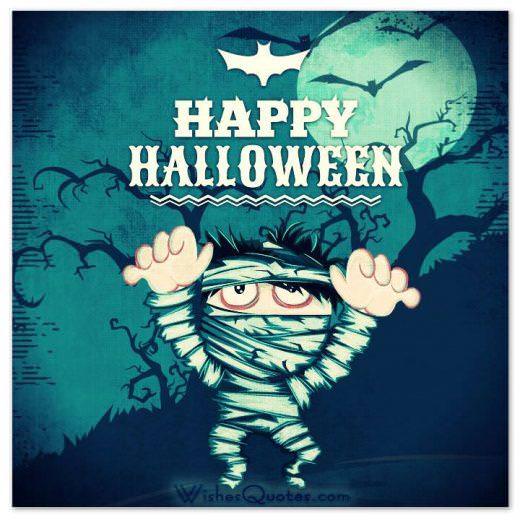 Halloween Quotes
When witches go riding, and black cats are seen, the moon laughs and whispers, 'tis near Halloween. – Author Unknown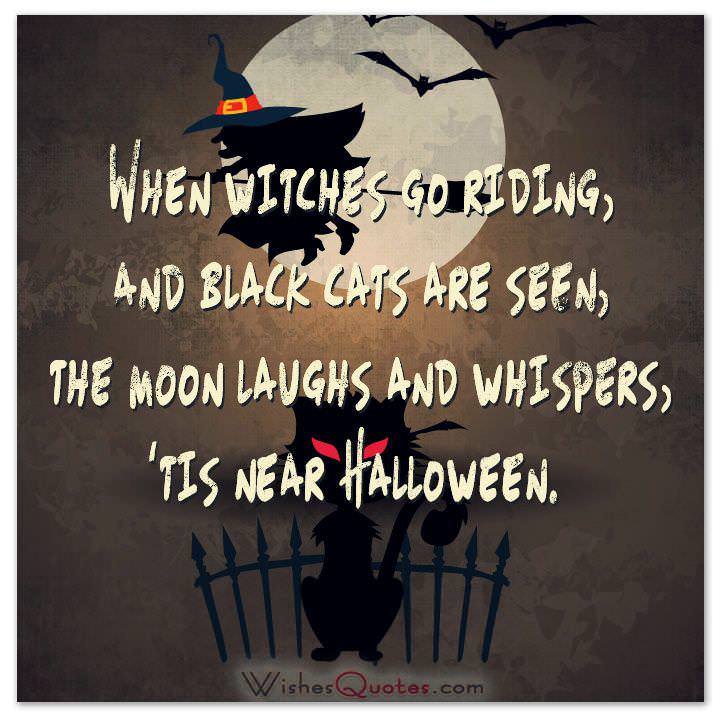 Shadows of a thousand years rise again unseen, Voices whisper in the trees, "Tonight is Halloween!" – Dexter Kozen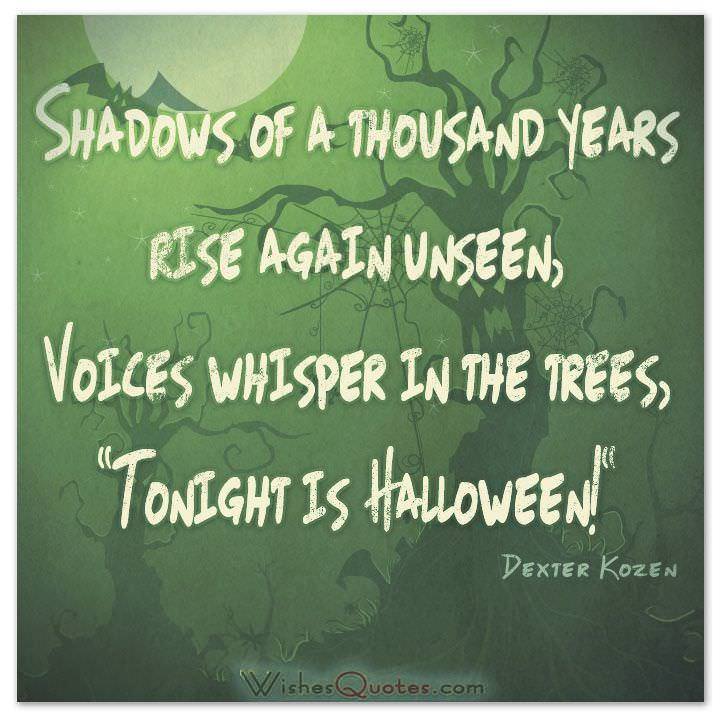 When black cats prowl and pumpkins gleam, May luck be yours on Halloween. – Author Unknown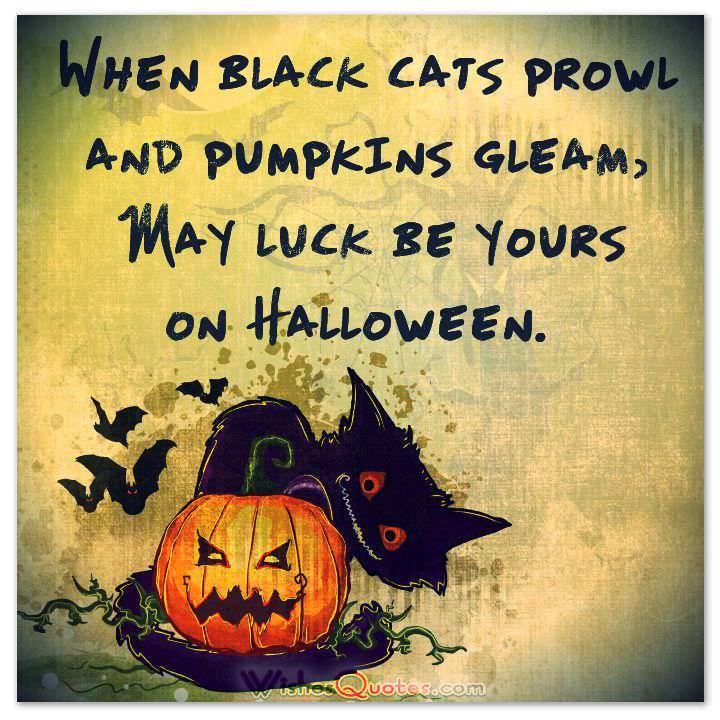 'Tis the night – the night Of the grave's delight… – Arthur Cleveland Coxe.
Bring forth the raisins and the nuts- Tonight All-Hallows' Spectre struts. Along the moonlit way. – John Kendrick Bangs
Double, double toil and trouble; fire burn and cauldron bubble. – William Shakespeare
Where there is no imagination there is no horror. – Arthur Conan Doyle, Sr
Witch and ghost make merry on this last of dear October's days. – Author Unknown
Deep into the darkness peering, long I stood there, wondering, fearing, Doubting, dreaming dreams no mortal ever dared to dream before. -Edgar Allan Poe
If human beings had genuine courage, they'd wear their costumes every day of the year, not just on Halloween. – Douglas Coupland
Halloween Poems
"Be silent in that solitude,
Which is not loneliness—for then
The spirits of the dead, who stood
In life before thee, are again
In death around thee, and their will
Shall overshadow thee; be still."(From "Spirits of the Dead" by Edgar Allan Poe)
Wishing you lots of Halloween fun,
And that you eat all the candy you can.
If you get scared try not to run,
because the monster is just a man.
(By Blake Flannery)
B is for broomsticks witches to fly,
O is outrageous spooks that go by,
O is for orange pumpkins so bright,
These are the signs of a Halloween night.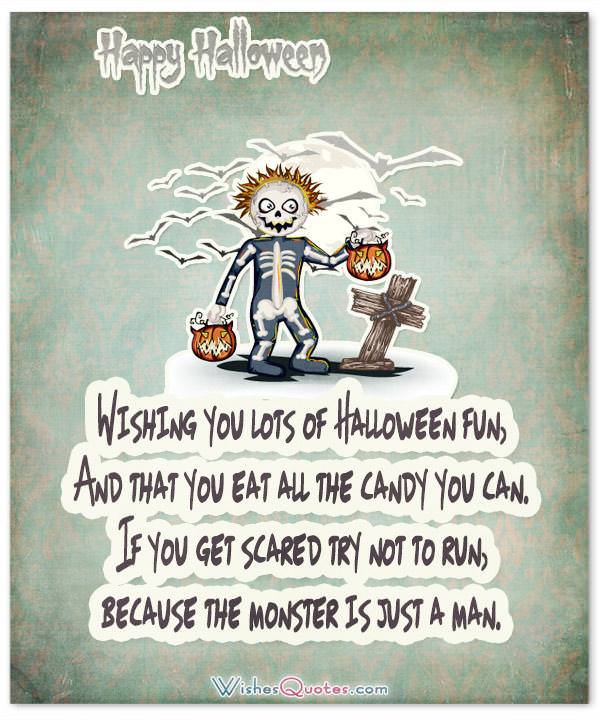 Silent phantoms of the night
In their robes of ghostly white
They are always to be seen
On the night of Halloween
From ghoulies and ghosties
And long-leggedy beasties
And things that go bump in the night,
Good Lord, deliver us!
(Scottish Saying)
Dress up and play the part.
Hold out your bag to be stuffed.
Just don't do it at Wal-Mart,
Or you might end up handcuffed.
(By Blake Flannery)