Celebrate Sibling Bond: Special Brother's Birthday
Welcome to a heartfelt collection of birthday wishes for brothers! Brothers hold a unique place in our lives, and their birthdays offer the perfect opportunity to express our feelings. Whether your brother is your confidant, partner in mischief, or the person you turn to in times of need, his special day deserves to be celebrated in a memorable way. In this collection, we've gathered a diverse range of birthday messages that capture the essence of your bond, from sincere and sentimental wishes to playful and humorous greetings. So, join us in celebrating your brother's birthday with words that come straight from the heart.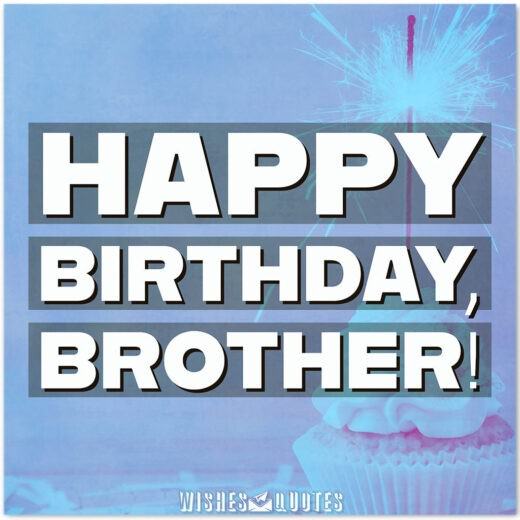 Heartfelt Birthday Wishes for your Brother
Brothers hold a special place in our hearts. They are the ones who have been with us through thick and thin, and no matter how much we fight, they will always be there for us. On their birthday, it's important to show them how much we appreciate their presence in our lives.
Before we delve into the examples of heartfelt birthday wishes for a brother, it's important to express our gratitude for their presence in our lives. Brothers are the ones who protect us, make us laugh, and help us navigate through the ups and downs of life. They are our confidants, our mentors, and our best friends. On their birthday, it's important to let them know how much they mean to us and how grateful we are for their presence in our lives.
Examples of Heartfelt Wishes for a Brother
You're more than just a brother; you're also my best friend and someone I know I can count on to be there for me in good times and bad. Thanks for always having my back. Happy Birthday!
Happy Birthday to our parent's second favorite child! Just kidding, brother. I wish you the best on your special day.
An amazing brother like you deserves all the world's praise, gifts, and love. This is why, on this special day of yours, I plan on giving you all three in quantities larger than you could have ever imagined! Happy Birthday!
Happy Birthday to my brother, my best buddy and the only guy I can trust to help me get out of trouble.
Happy birthday to the most amazing brother in the world! You have always been my protector and my best friend. May this special day bring you all the happiness and joy that you deserve.
To my dear brother, on your special day, I want to thank you for always being there for me, through thick and thin. You are my rock, my confidant, and my best friend. I hope this birthday brings you all the love and happiness that you deserve.
Happy birthday, dear brother! You have been my partner in crime, my co-conspirator, and my source of laughter for as long as I can remember. May this birthday bring you all the joy and happiness that you have brought into my life.
Another year has gone by, and a little less hair on your head, but a lot of love in my heart for you. Have a happy birthday, and remember that men just get better with age.
Your optimistic spirit and cheerful words always encourage me. Thanks for being such a great brother. Have a terrific Birthday!
I know today is your Birthday, but it has always been a special day for me, too. Years ago, I gained the best friend I will ever have on this day. Thanks for being there for me, brother. I hope all your wishes come true today.
From how to stay up late to throw the perfect curveball, you have taught me something new every year of our lives. I can't wait to see what you teach me this year. Happy Birthday!
As you prepare to face yet another birthday, remember that this is our time to party! Can't wait to get out tonight and celebrate!
Happy Birthday to my favorite brother in the whole world! May you find the inspiration to move onward and upward as you celebrate another birthday.
Thank you for my great childhood memories. Here's to many more memories to come. Happy Birthday to the world's greatest brother!
They say you can choose your friends but not your family. I just want you to know that if we weren't already brothers, I would prefer to be friends with you in a heartbeat! I'm so lucky to have a brother like you! Happy Birthday!
I've always admired your drive and determination. May you continue to reach new goals and soar to new heights this year. Have a wonderful birthday, bro! You've earned it!
How could I forget all the times we got into trouble when we were growing up together? Or all the creative ways you helped me get out of trouble? Happy Birthday, bro, from your "partner in crime."
Rather than count candles on your cake, count all the happy memories we share together. Happy Birthday!
Your courage inspires me, your determination challenges me, and your loyalty reassures me. Thanks for being the best brother I could ask for. Have a terrific Birth!
On your Birthday and every day, I want you to know how much I look up to and admire you, brother. Thanks for setting such a positive example for me all these years!
You've always known just what to say to cheer me up when I was having a rough day. Though I don't have your gift for finding the perfect words, I simply want you to know how glad I am to have a brother like you in my life. Happy Birthday!
Wishing you a very Happy Birthday, bro, and you don't have to say out loud that I am your favorite sister (I already know that). Love you!
You've always been there for me, and I will always be there for you. Happy Birthday, brother.
My love for you is directly proportional to the number of gifts you will give me on my Birthday. Plan accordingly. Happy Birthday!
I never got a choice in whom to have as a brother, but if I had, I would've picked you.
I am proud to call you my brother, both today and every day. I hope that this year will be full of all that makes you happy.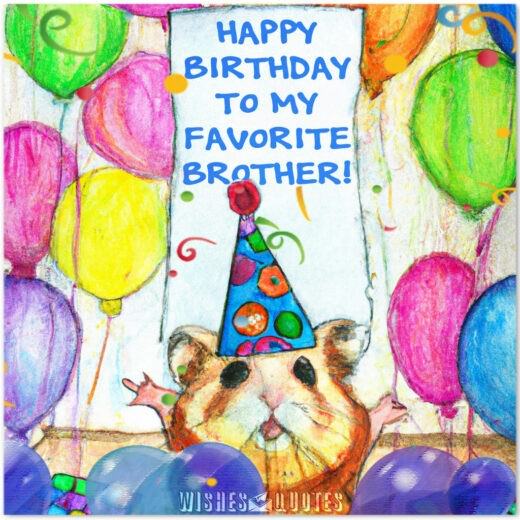 Happy Birthday to my mother's second favorite child.
Ever since we welcomed you into the family, you and I have had a special bond. What better time than your Birthday could there be to remind you how important you are to me? Have a Happy Birthday!
Roses are red, violets are blue, I'll never have as many birthdays as you! Happy Birthday to my older brother!
You are not only a wonderful brother but also a wonderful friend.
It was incredible the way I grew up. I laughed with you, I cried with you, I fought with you, and I kicked your ass too. I just had to remind you. Happy Birthday.
Despite our many fights, today I want to say Happy Birthday, and I love you.
Thanks for being not only the best brother but also a great role model.
I am thankful that God gave me a brother like you. I hope you have a fantastic day and lots of fun! Enjoy this day; you deserve it!
You have brought so much happiness to our family; Happy Birthday.
A brother like you deserves only the best today and every day.
Happy Birthday to a person I am proud to call my brother.
Brothers are a gift from God, and you are my favorite gift.
Enjoy your Birthday, bro! You deserve it.
I never could've made it through childhood without you.
I am glad Mom and Dad didn't listen when I said to take you back to the hospital.
Our special sibling bond will always be prevalent, brother.
On your Birthday, many miles may keep us apart, but you are always in my heart.
It has been fun so far, but the best is still to come. Have a wonderful birthday, my wonderful brother.
Happy Birthday to my parent's second favorite child!
Not many people are lucky enough to find their best friend in their brother, but I am.
Today, I want you to know that I am grateful for a brother like you.
Wishing you nothing but the best on your special day, brother.
Even when it seems like I want to kill you, remember that I love you.
Thank you for protecting me throughout the years.
Next to Dad, you are the most handsome man in the family!
I hope I can provide you the love and support you have always provided me.
I wish my favorite brother a great day and many great years to come on this special day.
Happy Birthday to my dear brother that has brought me so much joy.
Growing Up Together: Birthday Messages for Milestones
Cheers to the Big 3-0! Happy 30th birthday, bro! It's incredible how we've journeyed through three wonderful decades together. May this milestone be the start of your most exciting chapter yet.
A Driver's License and 18 Candles! Wishing you a fantastic 18th birthday! You're officially an adult now. Enjoy the open road, but remember, Mom still worries.
Graduating to Greatness! Congrats on your graduation, dear brother! Your hard work has paid off, and I couldn't be prouder. Here's to many more achievements in your future!
The Big Move! Happy housewarming on your new place, bro! May your home be filled with laughter, love, and good company. Welcome to adulthood's adventure!
First Job Jitters! Starting your first job is a significant step. Congratulations, and may your career be as bright as your smile on this special day!
Over the Hill and Loving It! Turning 40 is a major milestone, but you've never looked better. Here's to four fabulous decades, and to many more in style!
Silver Locks and Silver Linings! Embracing your silver years with grace and wisdom. Happy 60th, dear brother! May this chapter be as extraordinary as you are.
Retirement Bliss Begins! Cheers to a well-deserved retirement! May your days be filled with relaxation, adventure, and all the things you love. Enjoy every moment!
A Toast to 25 Years of Marriage! Celebrating a quarter-century of love and partnership. Wishing you and your spouse endless happiness and more beautiful years together.
The Golden Anniversary! Fifty years of marriage is an incredible journey. May your love continue to shine as brightly as it did on your wedding day. Happy anniversary!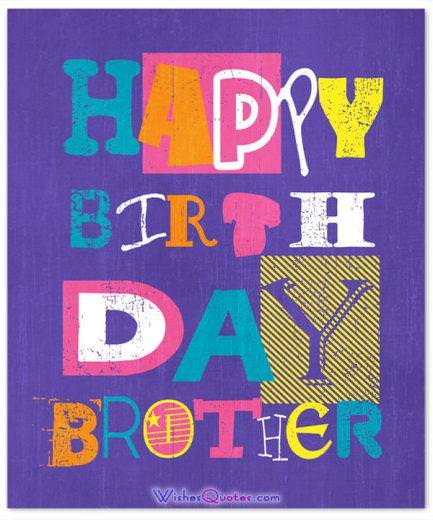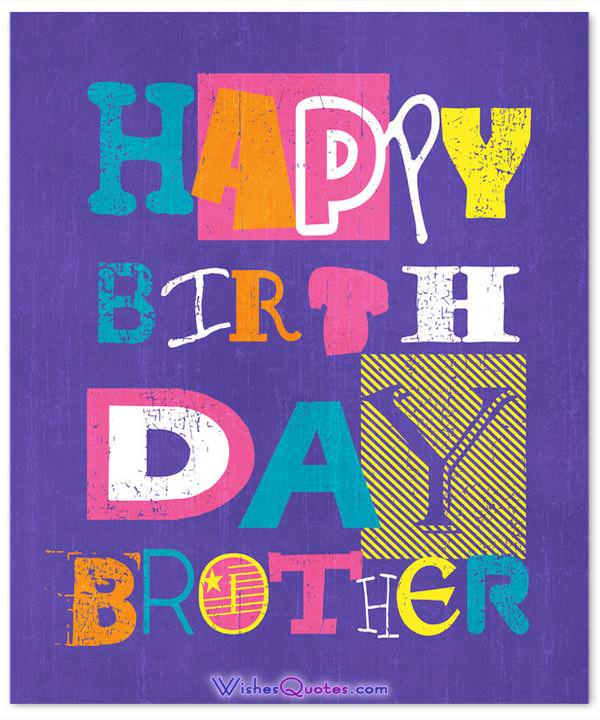 Brushstrokes of Love: Creative Birthday Wishes for Brother
A Portrait of Happiness: On your birthday, I paint a canvas of joy. May your life be a masterpiece filled with vibrant colors and beautiful moments. Happy birthday, dear brother!
A Symphony of Success: As you celebrate another year, may your life's symphony be harmonious and filled with sweet success. Keep composing your own destiny. Happy birthday!
A Letter of Inspiration: Each year, your story unfolds with more chapters of triumph and growth. Keep writing your narrative with courage and inspiration. Happy birthday, bro!
Starry-Eyed Dreams: On this day, may your dreams shine as bright as the stars. May every wish upon them come true. Happy birthday, and reach for the sky!
A Balloon Bouquet of Laughter: Let laughter fill your day like balloons in the sky. Celebrate the wonderful person you are. Happy birthday, my dear brother!
A Garden of Blessings: Like a garden in bloom, may your life flourish with happiness, love, and endless blessings. Happy birthday, and keep growing!
A Photo Album of Memories: Another year, another chapter in our photo album of life. May each snapshot be filled with smiles, adventures, and cherished memories. Happy birthday!
A Sunrise of Hope: With each sunrise, a new beginning. May your birthday bring fresh hope, opportunities, and a day as beautiful as the dawn. Happy birthday, bro!
A Poem of Possibilities: Your life is a blank page, and your birthday is another chance to write a beautiful story. May it be filled with joy, love, and endless possibilities. Happy birthday!
A Song of Celebration: Today, let's celebrate you with a joyful song, dancing to the rhythm of life. May your birthday be a memorable melody of happiness. Sing on!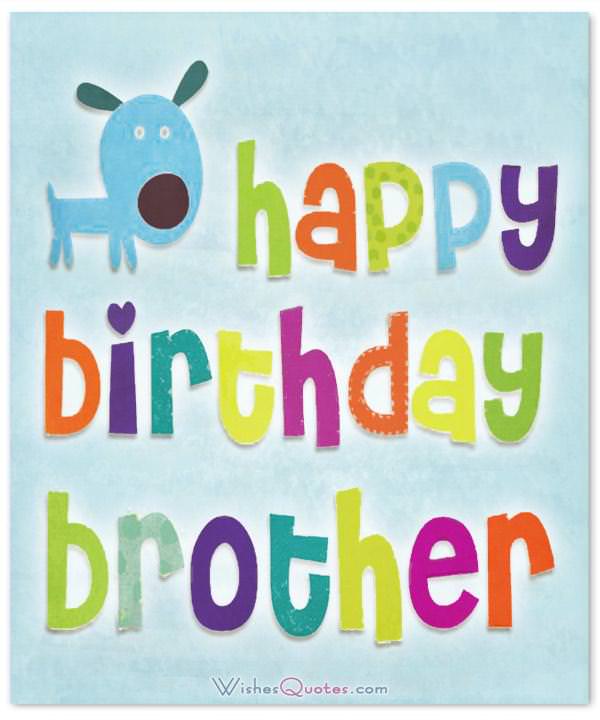 Verses for My Brother: Poetic Birthday Messages
A Rhyme for You:
In life's grand symphony, you're a cherished note,
Your birthday's the chorus that keeps us afloat.
With verses of love and a heart that's so true,
Here's to a brother as special as you!
Happy birthday!
The Poetry of Brotherhood:
Like lines of poetry, our bond's strong and true,
Each moment with you paints life's brightest hue.
On your special day, these verses I share,
For a brother so wonderful, loving, and rare.
Happy birthday!
A Sonnet of Joy:
On this day of your birth, a sonnet I'll write,
Of laughter, of love, and moments so bright.
With verses that rhyme with the joy that you bring,
To my dear brother, I truly do sing.
Happy birthday!
Words in the Wind:
Like whispers of wind that rustle the trees,
Your presence brings comfort, puts my mind at ease.
In verses and lines, I express what I feel,
For a brother like you, whose heart is so real.
Happy birthday!
A Haiku of Happiness:
Joy on your birthday,
Brother, you light up my world,
Love in every line.
Happy birthday!
A Limerick for Laughter:
There once was a brother so cool,
Whose laughter was everyone's fuel.
With verses so bright,
He'd light up the night,
A poet, a jester, no fool!
Happy birthday!
Verses of Thanks:
With verses of thanks, I express how I feel,
For a brother like you, whose love is so real.
On your special day, let these words take their flight,
You're cherished and loved, now and every night.
Happy birthday!
A Cinquain of Love:
Brother, you're
Amazing, kind,
Your heart shines bright,
Filling lives with love and light,
My hero.
Happy birthday!
A Couplets of Blessings:
On your birthday, dear brother, I pray,
May blessings surround you each step of the way.
With verses of love and words so sincere,
You're cherished and loved, year after year.
Happy birthday!
A Triolet of Celebration:
Celebrate with joy, my dear brother so dear,
Your birthday's arrived, and it's that time of year.
With verses and laughter, with love, let's embrace,
Another year older, another year's grace.
Happy birthday!
Happy Birthday, Bro: Fun, Unique, and Creative Wishes
The best part of my childhood was growing up with you.
You are an irreplaceable part of my childhood, brother.
Happy birthday to the most adventurous and fearless brother in the world. May your life be full of new experiences, exciting adventures, and unending joy.
Dear brother, on your special day, I want to thank you for being my confidant, my support system, and my constant source of inspiration. Wishing you a happy birthday filled with love, laughter, and lots of cake.
Happy birthday to my partner in crime, my partner in fun, and my partner in all the silly things that we do. May your birthday be as amazing and as crazy as our adventures together.
I am so lucky to have been with you on every birthday of yours so far, little brother.
We may have sibling rivalry, but today let's call a truce to celebrate your birthday!
Wishing you another happy and healthy year of life, brother.
Let's raise a toast to your birthday and many birthdays to come!
Whenever I cried, you made me laugh. Whenever I faltered, you picked me up. Whenever I was in trouble, you took the blame. Whenever it was my birthday, you licked cake from my face. Eww… But now that it's yours, why are you so far away? Missing you on your birthday.
When I look into your eyes, I see a brother. When I don't, I still see a brother. Does this mean I love you? No, it's only the smell of your birthday cake that has made me crazy.
You argue and fight more than you talk. You trip and fall more than you walk. It's only your birthday that I wish you. Otherwise, I would have kicked you and called it your fault.
The best thing about an elder brother's birthday is that we actually get' treats instead of giving one. Well, we are not asking for a treat, but we won't mind anyway. Just kidding! Happy Birthday.
Having a brother who picks his nose is common. Having a brother who picks his birthday cake out of his nose is even more common. I know you qualify in the first, and confirm the second once you cut your cake. All the best. Happy Birthday.
Twinkle Twinkle Little Star Have a Pepsi with Guitar Your sister is waiting for two hours. Come and cut your cake in her car!
Hey brother, may all of your wishes come true on your special day.
I could never match the gifts you have given to me by being my brother, but today I will try.
Thank you for all the happy memories I cherish. Happy birthday, brother.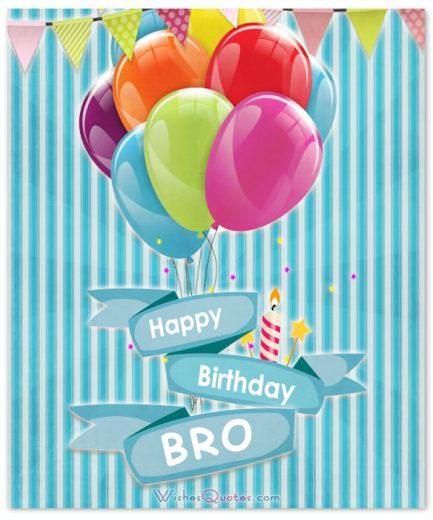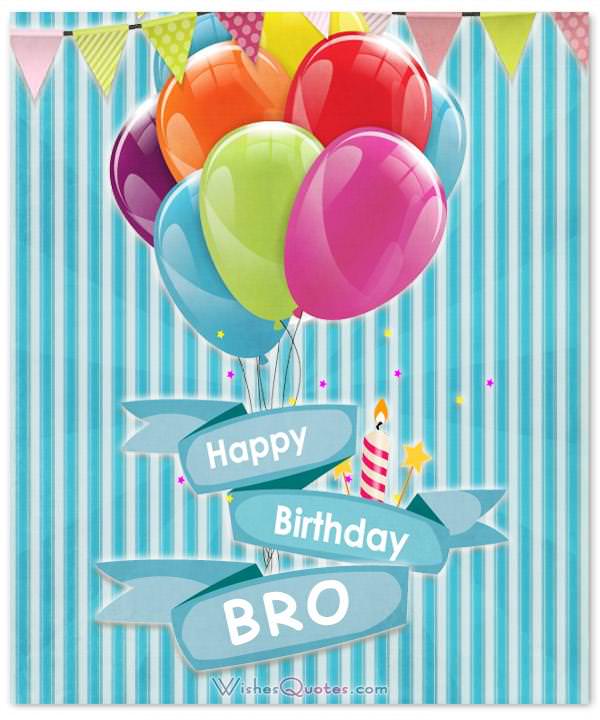 Brotherhood Never Grows Old: Inspirational Birthday Wishes
As we celebrate our brother's birthday, it's essential to acknowledge and appreciate their efforts and accomplishments. A brother's birthday is an opportunity to motivate and uplift them to strive for more significant things in life. Below are some inspirational messages to inspire your brother on their birthday: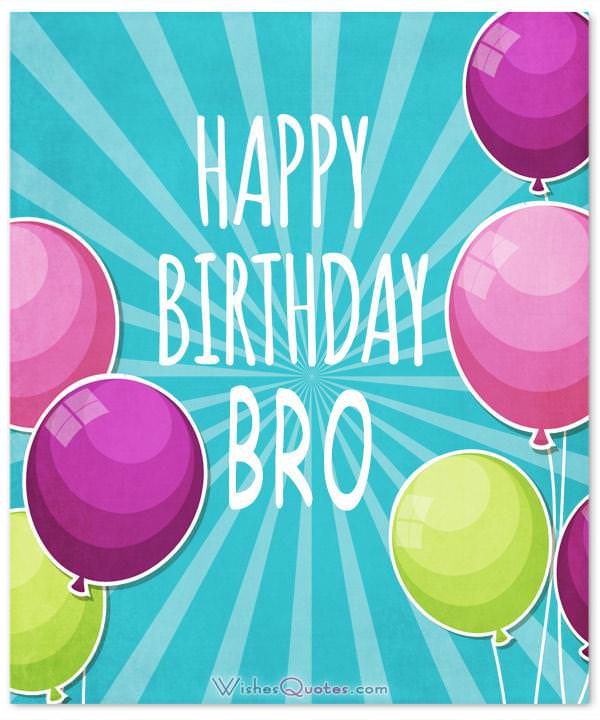 Examples of Messages of Encouragement and Inspiration for a Brother's Birthday
You are a true inspiration, brother! Keep pursuing your dreams, and always remember that success is within your reach. Happy birthday!
On your special day, I wish you the courage to chase your passions and the strength to overcome obstacles. May your life be filled with countless opportunities to achieve your goals. Happy birthday, dear brother!
Today, I celebrate a remarkable brother who has inspired me in more ways than I can count. You are destined for greatness, and I believe in you. Have a fantastic birthday!
You have been an excellent role model and a source of inspiration to me. I hope you continue to inspire others, and may your life be filled with joy, peace, and abundance. Happy birthday, brother!
It's not about the years we live, but the impact we make. You have touched so many lives, brother, and I'm proud of the person you have become. Keep shining and making the world a better place. Happy birthday!
Happy birthday to a brother who never gives up on his dreams. You are destined for greatness, and I'm confident that you will achieve all that you desire. Keep pushing and striving for the best, and success will be yours.
As your brother, I want you to know that I believe in you and all your dreams. May this birthday be a reminder that you are capable of achieving anything you set your mind to. Happy birthday!
On your special day, I wish you strength to overcome any obstacle that comes your way. May you never lose sight of your goals and may your determination lead you to success. Happy birthday, brother!
You have always been an inspiration to me with your hard work and dedication. On your birthday, I want to let you know how proud I am of you and everything you have accomplished. Keep shining bright, brother!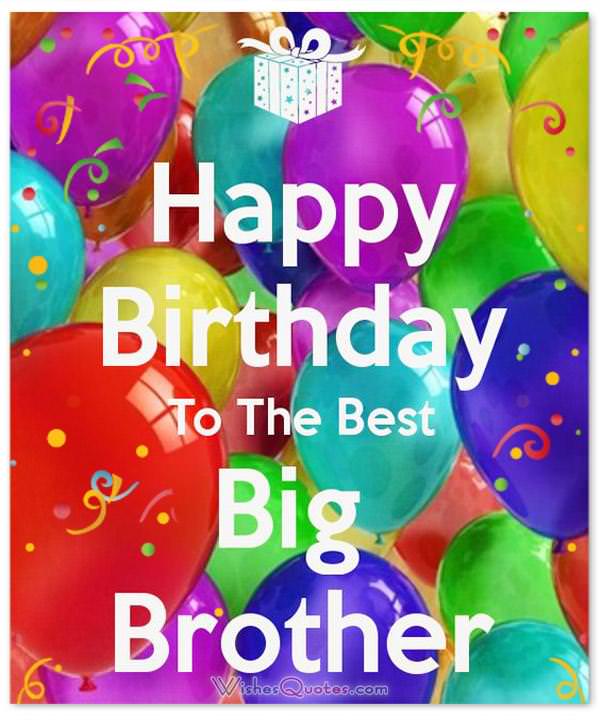 Short Birthday Wishes for your Brother
Happy birthday, brother! I love you!
Brothers are the best gift. Happy birthday!
Happy birthday to my favorite brother!
Happy birthday, dear brother.
Let's party! Just don't tell mom.
Even if I had the chance, I'd never pick another brother.
Happy birthday to my best friend and brother in one.
I hope your birthday celebrations are as unique as you are, brother.
May all your dreams come true this year, dear brother.
I never needed a best friend because I have always had you, brother.
Although we are miles apart, I wish you all the best today, brother.
Even though we are older now, I still feel like a child when we are together.
Every day I thank God for giving me a brother like you.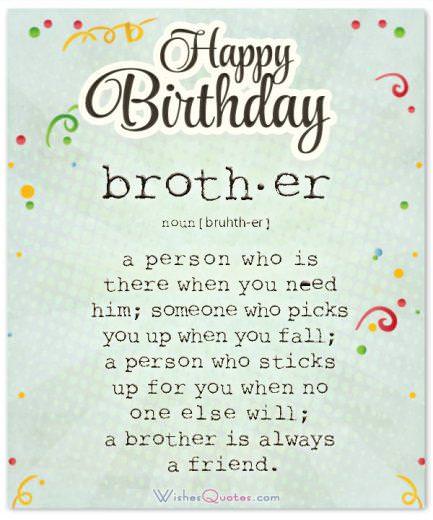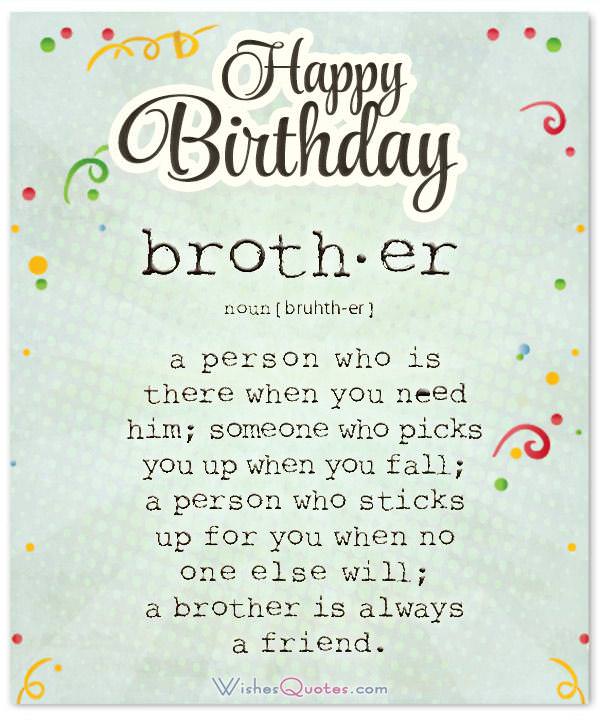 How Can I Say Happy Birthday to my Brother?
Saying happy birthday may not seem like much, but these small greetings are a great way to show someone that you are thinking about them on their special day. If you are more traditional, then you may choose to create a handmade card with your special brother's birthday wishes for him written inside. However, in today's digital world, more and more people are simply opting to send an email or text message. Here is a wide variety of 50 different birthday wishes for your brother, ranging from loving and heartfelt wishes to witty and humorous remarks. Remember to pick a greeting that fits both your brother's unique personality and your special relationship. On his birthday, let him know he's special! Check at the end 10 creative ideas for wishing your brother a happy birthday.
10 Creative Ideas for Wishing your Brother a Happy Birthday

Plan a board game night focused on the games you used to play as kids. Include other family members and friends, and make sure to have as many games available. To complete the theme, serve the type of food you used to have on family game nights.
Surprise your brother with a video game tournament, using games from your childhood if you can still find them. Otherwise, choose his favorite video game, and plan on an all-night game party with his favorite food, drinks, and friends.
Invite your brother's best buddies for an early morning paintball challenge. Divide the party into as many groups as you wish, and play different challenges in a paintball maze. Conclude the party with a picnic or heart brunch.
Laser tag is an activity that anyone of any age can get into, so if this is the birthday surprise for your brother, you can play various challenges that will engage young kids, teens, adults, and seniors. Indoor and outdoor laser tag facilities make it even more fun for the birthday celebrant.
If your brother is the outdoor and active type, choose a challenging zip line course that you can enjoy together. Turn it into a zip line party by inviting a few more people who enjoy the activity. The rest of the party can wait at the end of the course with a birthday surprise complete with balloons and cake.
Gather up the gang and volunteer as a team at a soup kitchen, a fundraiser, or another event to benefit your brother's favorite charity.
For a brother who is into extreme adventure, plan on a parasailing experience together or with some of his friends. Have someone videotape the event for posterity.
The mystery dinner theater makes the traditional birthday dinner more exciting. Check with the restaurant to ensure that the performance is suitable for all of your birthday party guests.
Plan a wardrobe makeover party for a brother who embarks on a new career or a brother who needs help with upgrading his clothing selection. Consult a professional stylist and have the pro make a list of necessary items that would serve as a start to building a better wardrobe. Advise invitees about the theme of the party, and include information about correct clothing sizes.
Bring your brother to a car dealership that sells his dream car. Arrange to have him test-drive his dream car. He will appreciate an extended spin if you can arrange that beforehand.
Making Their Birthday One to Remember with Heartfelt Wishes and Quotes