Birthday Wishes for Stepsister
If your stepsister's birthday is near and you are looking for heartfelt and meaningful birthday messages to send to her. Check through our amazing collection of unique birthday wishes for stepsister. Having a stepsister, or any form of a non-biological sibling is not always easy. It often comes after a bad memory of a broken marriage and a promise of a new life for one of the two parents involved. But, most times it turns out to be a much better scenario than anticipated. So, when it comes to that very special day of hers, it is mandatory that you let her know all of your feelings for her, in your attempt to make the day even more special.  But the thing is, most people have a hard time getting past the commonly used "Happy birthday!". This is why we are here for! We have provided you with the best birthday wishes on the internet, guaranteed to make your beloved stepsister the happiest person on Earth!
15 Simple Birthday Wishes that are Guaranteed to Make your Stepsister the Happiest Person on Earth!
We might not be connected by blood, but I still feel like you are the best sister I could ever have. Happy Birthday!
To my amazing stepsister, I wish you all the best for your birthday.
To the best stepsister ever! Happy Birthday!
Happy Birthday to an incredible stepsister!
Happy Birthday to my awesome stepsister I hope that you have a wonderful day today filled with happiness!
My dear stepsister, I wish that you have a dreamlike and amusing birthday.
It all started as a new life for our parents but ended up as a way for me to find the best sister in the world. Happy Birthday!
Your charming personality and your graceful smile make all the family dinners worth it. Happy Birthday!
Having you as a part of our family is one of the best things that could have happened to us. Happy birthday, sister!
Blood might not connect us, but it feels like you are the best sister I could have ever wished for! Happy Birthday!
Today is a celebration for the entire family since the daughter that has made it so proud has her birthday! Happy Birthday!
With a thousand kisses and all of my love, I wish you the happiest of birthdays! To the stepsister that made for me living in this family tolerable!
Funny Birthday Memes for Sister
This is my most heartfelt wish, to let you know that I genuinely care for you and even though blood may not connect us, I still feel like you are my sister! Happy birthday!
No matter how many wishes I send and no matter how many songs I sing, it's not enough to get across everything I feel for you. You truly are the best sister I could have hoped for! Happy birthday!
In all of my dear childhood memories, there is one thing in common, you. For every significant accomplishment of my life and in every great moment you've been there to support me. Thank you and happy birthday!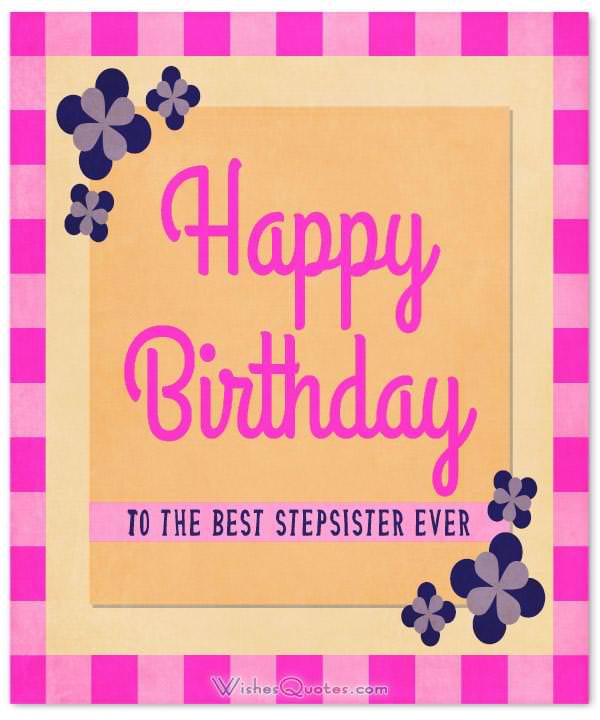 What to Write in your Stepsister Birthday Card when You Have a Rough Relationship
I know that it wasn't easy getting to know each other, but I hope that from now on we can become actual siblings! Happy Birthday!
The only reason I called you my "step" sister is because it was a huge step accepting you into the family. Thankfully, it turned up to be much better than expected! Happy Birthday!
I know we've had our ups and downs, but in the long run, we made it happen! Now, I feel like you are the best step-sister I could have ever wished for! Happy Birthday!
I have a confession to make. I wasn't pleased when I first heard that I would be getting a step-sister. But, after getting to know you, I can only say that I couldn't be more wrong. Happy birthday!
I'm going, to be honest with you after my parents failed marriage, I never thought it would have gotten any better. But then you came along and made this family more bonded than ever! Happy birthday!
That's it! I hope you enjoyed reading this article and maybe you even got a lovely birthday wish out of it so you can finally get that message across to your step sister that you genuinely care about her. I know that going through a failed marriage isn't the greatest of experiences, so is having to accept a stranger as your sibling. But you have to realize that this is for the best. If your parents are happy, then it is in your best interest as well so you should be satisfied as well!