Birthday Wishes for Boyfriend (October 2022)
Here are some heartfelt birthday wishes for your boyfriend that you can either say aloud or write in a letter or birthday card.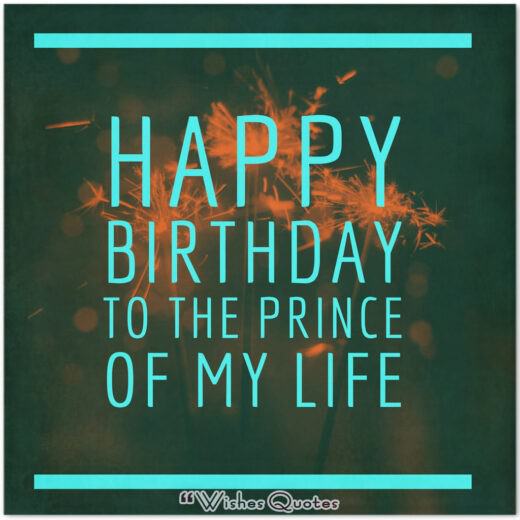 How Can I Wish Happy Birthday to my Boyfriend?
Letting your boyfriend know that you love him is easy, but coming up with a birthday wish or message can be a little intimidating. Sometimes, it's best to tell your boyfriend how you feel when you tell them Happy Birthday. Keep it safe so you don't saturate his Facebook profile or cell phone with self-professed love quotes that might look cheesy or embarrassing. Instead, take the plunge and claim your boyfriend by saying happy birthday. Dropping little hints that he is your man will make him feel proud and sincere and have a sense of belonging.  That security is the best gift you can give your boyfriend.  These subtle, useful hints can also take your relationship to a more intimate level, and your partnership will be stronger. Birthdays are scary moments for people in a relationship because they are uncomfortable or not confident in giving birthday wishes or gifts to their significant other. This lack of confidence creates an excuse for people to leave the relationship, only regretting it after days pass by.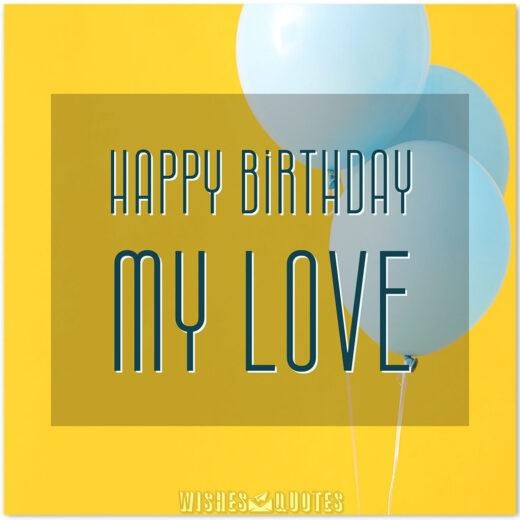 Romantic Happy Birthday Messages for your Boyfriend
Show your love and commitment to your boyfriend with some great birthday wishes. Suppose you follow these ideas for planning your birthday message for your boyfriend. In that case, his birthday will surely be a delightful, romantic success! These birthday wishes will help you prepare for the best way to make your boyfriend happy on his birthday. So get ready to give a special day to your boyfriend!
This morning, the first thing that came to my mind was that today is your birthday. I hope I was the first one to send you birthday greetings because you're the most special person in the world to me. Happy Birthday!
I thank God every day for giving me a special person like you. Happy Birthday!
When I first saw you, I was afraid to talk to you. When I first spoke to you, I was scared to kiss you. When I first kissed you, I feared loving you. Now that I love you, I fear seeing you go. Happy birthday, my love!
The best part of our courtship is sharing it with someone like you. Happy Birthday, Honey!
I'm blessed to have you in my life, as nothing could be more memorable than the day you came into this world. So thank you, and a very Happy Birthday to an exceptional person.
I wish you a very, very Happy Birthday. I hope our relationship will always blossom like a fresh flower. Happy birthday, my love.
This greeting is meant for a lovely person who has filled my life with lots of happiness, love, and care. Happy birthday, my prince!
Sending you a lovely birthday card, wrapped with a small surprise and lots of love, to make your birthday a special and happy one.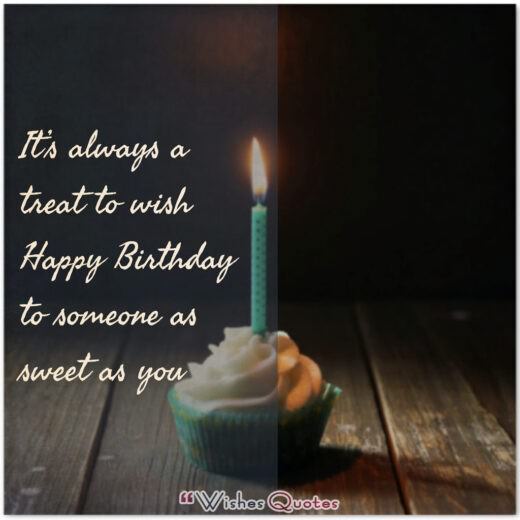 Sending you a heart full of birthday kisses. Handle with care!
I hope your birthday is full of joy, glory, and lots of love.
I have no words to explain how special you, your birthday, are to me.
Let's make love today so that your birthday will be filled with romance and an experience that you'll never forget!
Wishing you the best birthday ever, my sweetie pie.
On your birthday, let me remind you once more that my heart belongs to you.
I love you beyond what words can convey. You mean the world to me, and today, I wish you a Happy Birthday, my love.
May God bless you with a successful life, good health, and warm wishes on your birthday. I hope these blessings make your day even more special! So enjoy, and have a blast!
Let your Happy Birthday return again and again so that I have a chance to convey my true love to my boyfriend on his special day.
Every time your birthday arrives, I thank God that I've found such a wonderful boyfriend.
There's no better day to express my love for you than on your birthday. Happy birthday, my darling.
I wish you a Happy Birthday, and I look forward to making your birthday a marvelous and unforgettable day! So get ready for a special gift on your special day, my love.
Happy birthday to the one who has made my life so special.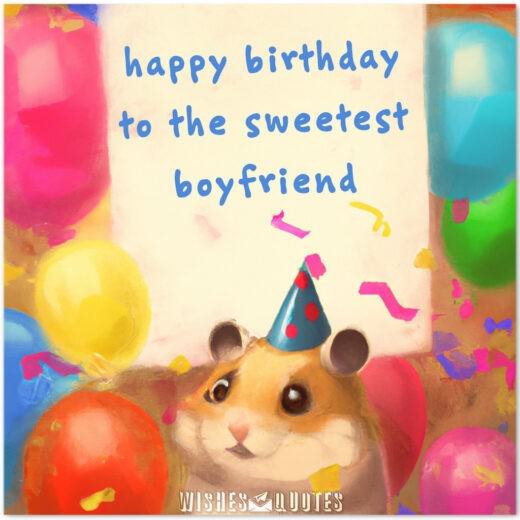 Unique Birthday Wishes to Impress your Boyfriend
I'd like to wish a lovely and very Happy Birthday to the prince of my life.
Happy birthday to my flaming hot boyfriend, hotter than all the candles on the cake!
Even when my skies are grey, you brighten every day. You will always be the love and light in my life. Happy Birthday!
I hope your birthday is all you could ever want for the most handsome boyfriend in the universe. With love and devotion, always, your pleased girlfriend.
I want to give you cuddles and soft kisses under the stars for your birthday, but most of all, I want you to know how happy I am to be your girl.
For the guy who can charm me from across the room with just a smile, I hope this day brings everything you want and more!
In every story, the princess ends up with a charming prince. So thank you for lifting all of my curses with just the touch of your lips. I love you; happy birthday!
To the most handsome birthday boy, you have a quiet strength that makes my heart sing. I love you and cherish our time together.
I was intrigued by your smile and elegant charm from the moment I saw you. So now it is your special day, and I want you to know I am still head-over-heels.
I'm so excited to be with you for your birthday this year. Here's to ensuring the upcoming year is filled with fun, love, and romance. I can't wait for all the wonderful times the next year will bring us.
You are the hottest guy at school! Thank you for being my partner in crime as we navigate the world together. Happy Birthday!
Every day I spend with you, I am reminded of how lucky I am to have a man as wonderful as you by my side. Happy birthday; I love you.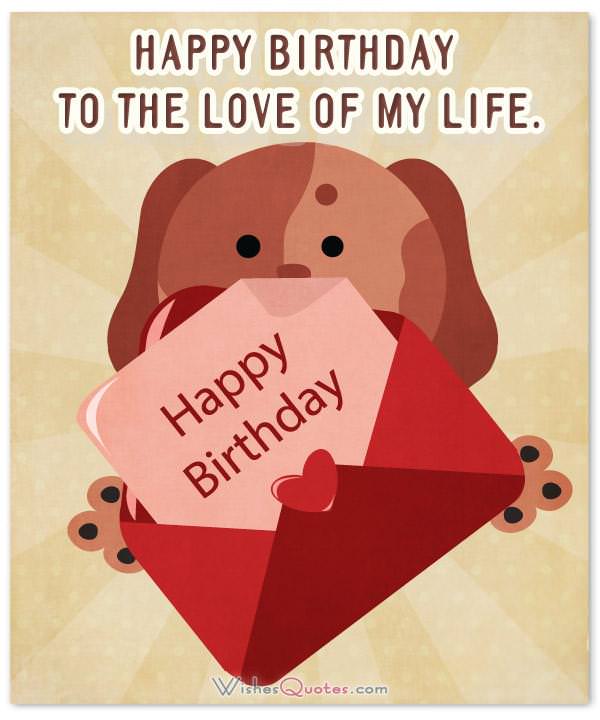 Growing old is not one of the things I look forward to, but if it means spending more years with you, I can't wait to become a grumpy old lady! Happy birthday, I love you!
I am so excited to spend the day with you! I have the most fantastic birthday surprises planned. I know you will never forget today; Happy (age) Birthday!
The best thing in the world is celebrating the birthday of the one you love. I am so lucky I can call you mine. Happy Birthday.
It has only been a short time since we started seeing each other, but I cannot imagine my life without you. So here's to this birthday and the ones to come.
Happy birthday to the sweetest person I know! Have a fabulous day, and stay blessed. Happy Birthday!
Wishing a Happy Birthday to the most charming, funny, attractive, and rocking personality in town. Have a great day.
If I could put my heart on paper and ink for you, I would have done it. Not because I'm crazy, but to show you how much I love you. Wishing you a very Happy Birthday!
I pray that you, my love, find all your dreams come true on your special day. Happy Birthday.
Let your birthday be full of love and happiness, just as our relationship has been blessed with these delightful qualities!
I thank God for your birth on your birthday, as my world would be incomplete without you. Happy Birthday.
Sending you oceans of love and constellations of kisses on your birthday.
You may grow old, but I'll grow old alongside you, and our love will always stay young. Happy Birthday.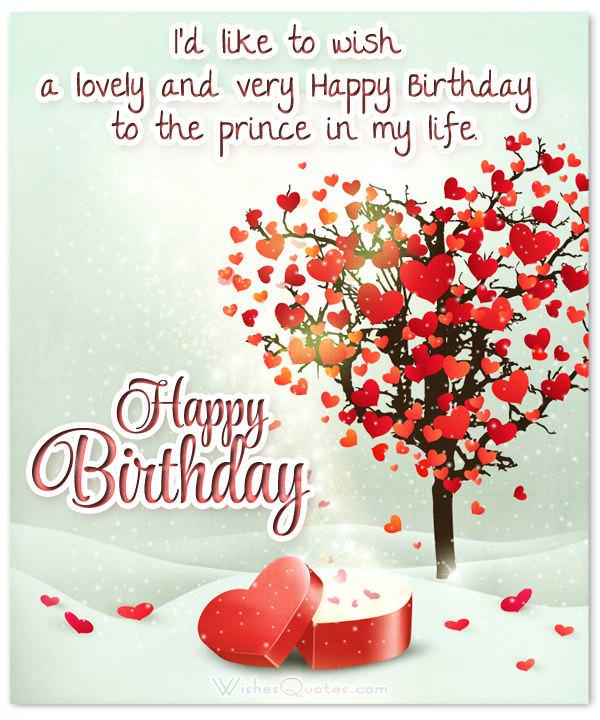 Check baby name meanings or explore the best baby names, including famous names,
unusual names, cool names, names by ethnic groups, and many more!
Baby Names
Short Birthday Wishes for Boyfriend
It's always a treat to wish Happy Birthday to someone as sweet as you.
Your birthday is so special to me — as unique as you are in my life.
Let your birthday be as lovely as you are.
You and your love are special to me; so is your birthday.
Sending you tons of love and hugs on your birthday.
Have the sweetest birthday, my sweetheart.
Happy birthday to the love of my life.
It's time to hug you tightly today, as it is your birthday.
My love for you is unconditional. Happy birthday, my dear!
Today is a special day for you, my love. Have a lovely birthday.
Happy birthday, my love. With lots of hugs and kisses!
Let my love overflow upon you on your birthday.
Cute Birthday Images and Cards for your Boyfriend
More Birthday Wishes