Congratulation Messages to New Parents
New parents are almost always overwhelmed with the onslaught of emotions that come from the birth of a new child. Take the time to send them a word of encouragement and congratulations. They will appreciate your kind words during such an exciting time for them. Write a short message on a card, wish the lucky parents on Facebook or send them an email. The following cuddly, cute and drool worthy congratulation messages and wishes are perfect examples of what to say to the people you love who just welcomed home their new child.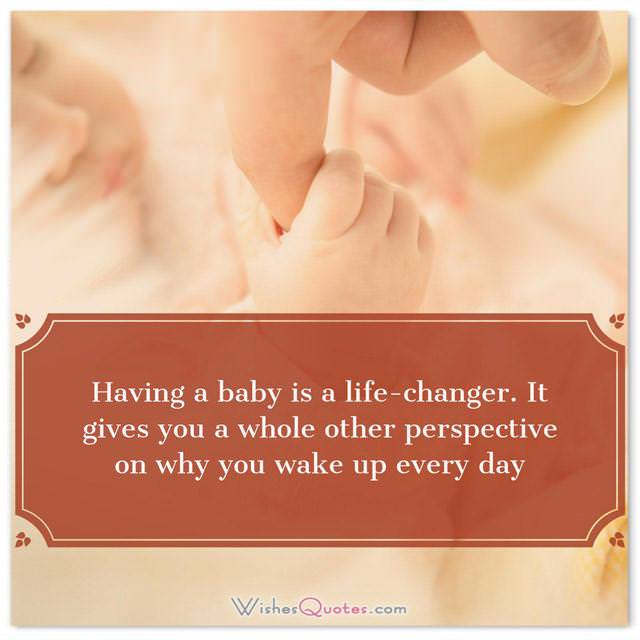 Bundle of Joy: Congratulation Messages Overflowing with Love for the Newborn
Congratulations on the safe arrival of your little one! May their life be filled with love, laughter, and endless joy.
Sending warm wishes and endless love to the newest addition to your beautiful family. May each day be a new adventure filled with happiness and cherished memories.
Welcome to the world, sweet baby! May you be blessed with good health, happiness, and all the love in the universe. Congratulations to the proud parents!
Your little angel has arrived, bringing a world of love and joy with them. Wishing you sleepless nights filled with sweet snuggles and a lifetime of precious moments.
Congratulations on your precious baby! May their every giggle, smile, and milestone fill your hearts with pure happiness. You are blessed beyond measure.
As you embark on this incredible journey of parenthood, may your little one brings you endless love, laughter, and unforgettable moments. Congratulations on your beautiful baby!
Welcome to parenthood! May the love you have for your precious baby continue to grow with each passing day. Wishing you a lifetime of happiness and cherished memories.
Your little miracle has arrived, and your hearts are forever changed. Sending you all our love and warmest congratulations on the birth of your beautiful baby.
Congratulations on becoming parents! May your home be filled with laughter, love, and the sweetest moments shared with your precious bundle of joy.
A special little someone has arrived to fill your lives with love and laughter. Wishing you an abundance of happiness as you begin this incredible journey of parenthood.
Sincere Congratulations to New Parents
A child is a precious gift that fills the heart with a joy you never knew you were capable of feeling. Take this time to relish in the miracle of your new family. We wish you many, many happy years as your child grows into a beautiful little person.
Your little one already has a special place in our hearts, and we can't wait to meet him. We know he is going to be just as amazing as their parents, and we're excited to be a part of their life. Sending all our love to the baby and the entire family.
There is nothing more exciting than the birth of a child. We know you have many sleepless nights ahead of you, but it will be worth it in the end. Congratulations on the new baby!
We remember what it was like to hold you in our arms as an infant. Now, you have a baby of your own. Welcome to parenthood, son/ daughter!
Can you believe how quickly those 9 months passed? I hate to tell you, but the next 18 years will go by just as quickly. Take the time to enjoy every little moment. Congrats n your new baby.
Congratulations on your new role as parents! This will be the hardest, but most rewarding job you have ever had before.
This might not be your first child, but the feeling of joy and love is the same. Congrats on the new addition to the family.
There is no greater joy than the birth of your child. We hope you relish in this moment and enjoy your new family to the fullest.
There is nothing we can say that will show how much we love you and your new baby. We cannot wait to meet him/ her! This is such a marvelous time. Congratulations!
our baby looks absolutely adorable. I cannot wait to watch them grow up with everyone we love by their side. Congrats!
The new baby will be the center of your attention forever more. This is a new life that is both scary and exciting. However, you will be an incredible parent. Congratulations.
All you ever imagined will come true with the hopes and dreams you have for your new child. Congratulations on the most magical time in your life.
Can you believe how grown up we are? I remember when we were just in high school. Now, you have your own child! I am so proud and excited for this new phase in your life.
Here is pack of diapers and some wine for you! It was a long 9 months, but you can finally have a drink to celebrate! Happy mom and dad forever!
Congratulations on the birth of your child! There is nothing better than the smell of a newborn baby. I just love their little feet too! Remember when they are small because they grow up so fast.
You might not be able to be as spontaneous with a new baby, but you will not want it any other way. The time you spend with your precious family if what you will love the most. Congrats on your new child.
We love your kids, and we cannot wait to meet the newest member of the (last name) clan because we are going to love them just as much. We know you are so excited, but take the time to rest because you have some sleepless nights ahead of you! Congratulations on your new baby.
Cherishing Parenthood: Congratulation Messages to Empower and Encourage New Parents
Congratulations on your precious little one! You have embarked on the most incredible journey of parenthood. Trust your instincts, embrace the challenges, and savor every beautiful moment.
Parenthood is a rollercoaster ride, but remember that you are strong, capable, and filled with love. Trust in your ability to navigate this new chapter and create a nurturing and loving home.
As you embark on this extraordinary journey, know that you have all the love, support, and admiration from those around you. You are amazing parents, and your little one is lucky to have you.
Parenthood comes with its own set of uncertainties, but remember that you are not alone. Lean on each other, seek guidance when needed, and trust in your ability to provide a loving and nurturing environment.
Congratulations on this beautiful chapter of your lives! You have already shown incredible love, care, and dedication. Trust in your instincts, cherish the small moments, and enjoy the incredible bond you share with your little one.
Parenthood is a marathon, not a sprint. Take it one step at a time, celebrate the milestones, and remember to take care of yourselves. You are doing an amazing job, and your love shines through in every moment.
Parenthood is a beautiful dance of love, patience, and growth. Embrace the journey, learn from each experience, and treasure the extraordinary bond you share with your little bundle of joy.
Congratulations on becoming parents! Trust in your abilities, believe in yourselves, and know that you have a whole community cheering you on. You are already rocking this parenting gig!
Embrace the messiness, the sleepless nights, and the challenges that come with parenthood. You are doing an incredible job, and your love for your little one will guide you through every hurdle.
Remember, you are not alone on this journey. Reach out for support, lean on your loved ones, and know that you are surrounded by a network of people who are there to cheer you on and celebrate your incredible journey.
Laughter and Love: Congratulation Messages with a Touch of Humor for New Parents
Welcome to the world of sleepless nights and endless diaper changes! Parenthood is a crash course in chaos, but trust us, it's the most hilarious rollercoaster you'll ever ride.
Congratulations on the promotion to "Chief Diaper-Changer" and "Master of Midnight Lullabies"! Your new job comes with amazing benefits like sticky fingers, messy faces, and a heart overflowing with love.
Life before kids: 8 hours of sleep, fancy dinners, and spontaneous trips. Life after kids: 8 minutes of sleep, eating with one hand, and planning trips to the grocery store. Enjoy the ride!
Parenthood: the only job where you can be simultaneously exhausted and deliriously happy. Embrace the chaos, find humor in the messes, and remember that coffee is your new best friend.
Congrats on entering the world of "Dad Jokes" and "Mom Mornings"! Get ready for endless laughter, questionable fashion choices, and a repertoire of silly faces that will make your little one giggle.
Welcome to the club of perpetual exhaustion, but also the club that knows the true meaning of unconditional love and the pure joy of witnessing every milestone. You've got this!
Parenthood is like a stand-up comedy show with an adorable audience. Get ready to perform silly dances, tell goofy stories, and enjoy the laughter-filled moments that make memories.
Congratulations on your adorable little boss who now runs your schedule, demands your attention, and occasionally throws tantrums. Just remember, you're the CEO of cuddles and tickles.
Parenthood is like being in a comedy improv show—you never know what hilarious surprises your little one has in store for you. Embrace the unexpected and enjoy the show!
Congrats on becoming parents! Get ready for endless laughter, messy adventures, and an abundance of love that will make every sleepless night and tantrum worth it. Parenthood is the greatest comedy and love story rolled into one.
The arrival of a precious little one brings immense joy and excitement, and it's the perfect time to extend warm wishes and congratulations to the proud parents. In this comprehensive blog post, we have curated a collection of thoughtful and touching messages to help you express your love, support, and happiness for the new parents. Whether you're a family member, a close friend, or a colleague, these heartfelt messages will serve as a wonderful way to celebrate this special milestone in their lives. Join us as we celebrate the miracle of new life and share in the joy of parenthood.
Keep the Love Flowing: Check Out More Baby Wishes Here