Wedding Anniversary Messages for your Wife
Your wedding anniversary is a perfect time to remind your wife of how much you love her. Here is a list of sincere wedding anniversary wishes to send her on this special day. Wedding anniversaries should be special whether it's the first or the sixty-first time that you and your love are marking the occasion. It's a time for taking account of the year's challenges and successes as a couple. It's a time for reaffirming what you vowed to do on your wedding day. More than likely, you will be spending your special day together with family and close friends. Never pass up the opportunity to use your anniversary as a way to make special memories whether you can spend the day together or not. Craft a heartfelt message to accompany a gift or bouquet of flowers. Better yet, let your significant other know how precious they are by waking them up to a sweet message on their social media.
Heartfelt Wedding Anniversary Wishes for your Wife
Every day I spend with you I am reminded of how blessed I am to have such a great woman like you by my side. Happy anniversary to us my dear!
I was lost until I found you. Thank you for XX beautiful years, my love.
I made a vow to love, honor and protect you for better or for worse, and I'm making the same vows today and every day for the rest of my life. Happy Anniversary!
Before I met you, I didn't realize I was half, yet, you came in and completed me, giving me the other half I needed to be a happy person. I love you, happy anniversary!
Never before in my life have I considered myself a lucky person. That is until I met you.  You make my life better. I love you, happy anniversary!
This day marks another year of our love. I truly hope that there are many more days like these to come. Happy anniversary!
Heartfelt Wedding Anniversary Wishes
No treasure in the world can replace the spark in your eyes when you look at me. Without you, my life would have been empty. Happy anniversary!
I know we've traveled a lot together, but out of all the sights we've seen, your eyes was the most beautiful. Happy anniversary, I love you.
Most couples usually lose the spark they had the first day the met. Yet, with a woman like you, that spark had no choice but to evolve into a wildfire. Happy anniversary to us!
I have to confess, I have never felt happier before in my life. And it is not the anniversary alone as a day that makes me feel like that. It is the fact that I get to see you yet another day and spend it with you having as much fun as possible. Happy anniversary! I love you.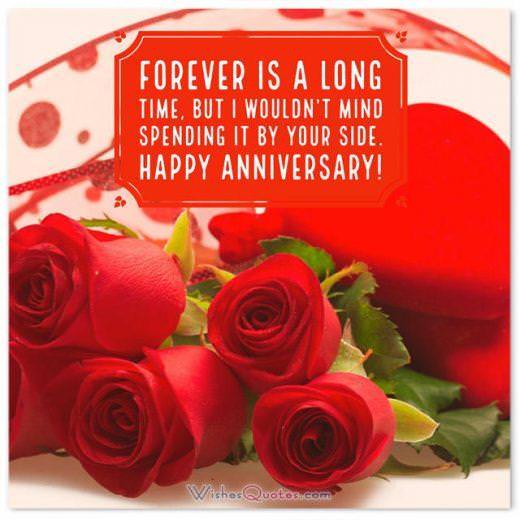 What to Write in a Wedding Anniversary Card to Wife
Today is yet another reminder of how in love I am with you. Not that I need any though, your smile happens to be just what I need to be reminded of it every single day. Happy anniversary, I love you.
Without you, I was drifting through life with no roots, no plans, and no future. With you, I am whole. Thank you for being a great inspiration, and Happy Anniversary, my love.
Every single day is a day of celebration with you. You are the light of my life, and I love you forever. Praying for much more happy anniversaries for us.
You put up with my faults and idiocies all the time and have made me a better person in the process. My gift to you on our XX anniversary is the new, improved version of me.
The one and the only reason that I became the person I am today, is because I had your love and support to get me through every hardship. Without you, my life would be empty. Happy anniversary, I love you!
Ever since I met you, I have gained a purpose in my life. To love and protect you. After the birth of our child, that purpose not only extended but doubled in importance. You truly give my life meaning. Happy anniversary, I love you!
My lovely wife, I'd like to wish us a happy anniversary. You are, have been, and always will be the love of my life.
There have been many times in the past where you have called me crazy. Well, truth is, I am. Ever since I met you, I've been crazy in love with you. And that is one thing I promise to remind you every single day, both with my words and my actions. Happy anniversary to us.
I may not be interested to go visit all these exhibitions of beauty, like museums and art galleries. Because just by looking at you every day around the house, I get my fix of beauty for the day. Happy anniversary!
Romantic Wedding Anniversary Quotes for Wife
Today is a bright new beginning. It is the first day of another year for us. Hopefully full of adventures, love, and happiness. Happy anniversary!
Let me tell you about my favorite moment in my life. It all started when I first saw you, and it is still going. Because with you, even years can pass by as mere moments. I love you, happy anniversary!
Out of all the good things that have happened to me, you are by far the best. Mainly because of most of them, is because of you. Happy anniversary my love.
If you were a superstar, I'd be your number one fan! Although a part of my last sentence was a lie, because to my eyes, you are truly as amazing as a superstar. Happy anniversary!
I never thought that there could be a woman brighter than the sun and more beautiful than the stars. And that was until I found you and you made my world bright and colorful again. I love you, happy anniversary!
There is nothing more precious I'd rather hold in my arms more than you. When your body touches mine is like I have touched the sky. You complete me, happy anniversary!
My love, I'd like to say that you are my everything and I wish us a happy anniversary!
Beautiful, graceful, loving, caring, forgiving. These are only some of the words I can come up with so I can describe how amazing you are. You complete me. Happy anniversary!
When another year passes and it only seemed like a moment, you know that your marriage is happy. I truly hope for many more years like this to come. Happy anniversary!
I used to hate getting up in the morning. That is until I started waking up at the sight of your beautiful face ready to spend another great day with me. Now waking up is one of the best parts of the day! Happy anniversary!
Even in the coldest nights of winter, your smile could warm up the entire house. You are the best wife a man can hope for. Happy anniversary!
Even though I am reminded every day of the reasons I love you, today is an opportunity to actually have fun about it! So, happy anniversary to us!
For you, I'd bring all the stars down to earth, so we can prove once and for all who the most beautiful thing in the galaxy is.(Hint: It's my wife). Happy anniversary!
Being a mother is like riding a bicycle, except the bicycle is on fire, and you are on fire, and everything around you is on fire. Yet, you seem to be handling the flames just fine. Always coming out on top, being the perfect wife any man can wish for. I love you, happy anniversary!
I've made many poor decisions in my life. But marrying you was not only a good one, it was probably the best thing I have done in my entire life. You are truly my other half. I love you, happy anniversary!