Thank a Teacher Today with the Best Teacher Appreciation Thank-You Notes
We do not appreciate teachers nearly as much as we should. Teachers are underpaid and overworked, taking on educating and caring for our children while they are in school.
How to Thank a Teacher
Show your appreciation for teachers' efforts in their jobs by thanking them when the opportunity arises. When they take the time to help students tie their shoelaces, learn their multiplication tables or understand the basics of Algebra, hand them a brief thank you note. Cite specific details to let the teacher know what's working. A little thank you message once in a while will go a long way in making teachers feel valued.
Awesome Thank-You Notes for Awesome Teachers
It's a big world out there, and you are doing everything in your power to prepare us to take on the world. Your efforts are appreciated.
Thank you for always being awesome under pressure, dear teacher.
When I grow up, I want to be a great teacher just like you.
Thank you for the little acts of kindness that you do so naturally. I feel so welcome in your classes.
I look forward to the days when I am scheduled to be in one of your classes. You are an inspiration to me.
In a world full of chaos and uncertainty, I look to you as a beacon of hope. No matter what the lesson is, you show us that we can do something to make this a better world.
When I have kids of my own, I will tell them that the world will go on as long as there are great teachers like you.
Thanks to your efforts, I no longer have nightmares about numbers. I love math because you showed me that math is life. Thank you.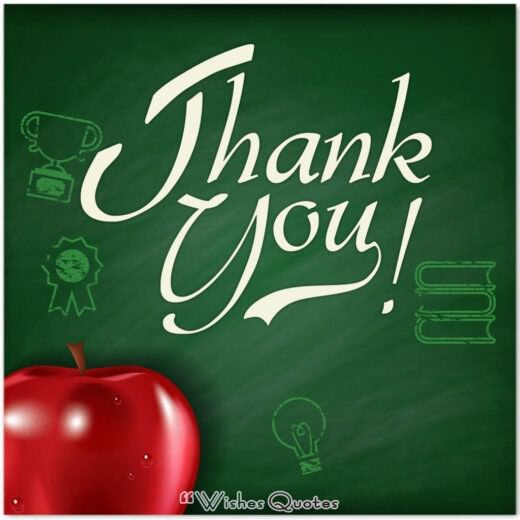 Thank-You Note Samples for Awesome Teachers (from Parents)
Thank you for your compassion and dedication to helping all the children who come to your classes. You are a shining example of what is good about this world.
Not all superheroes wear capes. Some of them dress like us and quietly do their thing to make this a better world for future generations. Thank you for your service.
Molding the minds of tomorrow's leaders takes passion and commitment. Thank you for choosing to be a teacher.
I don't know how you find the energy to face a classroom full of students five days a week. So this is to let you know that some of us are truly grateful for your efforts.
When I asked you why you chose to be a teacher, you said you wanted to make a difference in this life. I want you to know that you are making a difference in this student's life.
Teachers are some of the bravest people on this planet. Who else would willingly face a roomful of cynical kids day after day?
You have been an inspiration to our children. Thank you for maintaining a positive and creative learning atmosphere in your classroom.
The world does not need more politicians, actors, or financial gurus. Instead, the world needs more teachers like you.
Thank-You Note Samples for Awesome Teachers (from Students)
You make history sound so lively. I love being in your classes. Thank you for the effort that you put into every lesson.
I survived several of your science classes, and I can confidently state that my critical thinking skills are top-notch. Thanks to you.
Your love for art has taught me to look beyond lines and forms. You taught me to appreciate patterns, rhythm, and harmony. Thank you for teaching me to appreciate the world around me.
Thank you for sharing your love of books. Indeed, there is a universe bigger than our little town, and access is at our fingertips.
The ability to teach others is a gift. I will forever be grateful that you chose to share your gift with us.
I consider it a privilege to be taught classical literature by someone with your credentials. I appreciate that you make an effort to make the lessons relevant to our lives. You are a great teacher.
Thank you for taking extra time to make sure that everyone in class understands the lessons. You have helped change our attitude about school.
Somehow, the hardest lessons were the most fun to complete. That is the special magic you wield when it comes to calculus. Thank you.
You know you're a great influencer when you can convince the most math-phobic student to think that math is great. But, of course, I kept asking to complete all the bonus problems, didn't I?
We will miss being in your class when this school year ends. But, this is really our year of learning amazing things.
More Messages for Teachers