Sagittarius Birthday Wishes and Messages
Browse through our amazing collection of meaningful birthday wishes for Sagittarius (November 22 – December 21) man or woman, friend, or family member. The celestial archer is an apt representation of the Sagittarius personality: restless and adventurous with an unquenchable thirst for knowledge. Like the blazing arrows of the archer, Sagittarians are multitaskers, pursuing multiple intellectual and spiritual adventures at once. You are brutally honest, independent, and difficult to persuade especially because you tend to plan for all contingencies from the outset. Sagittarius is that person who will always have a backup plan or two.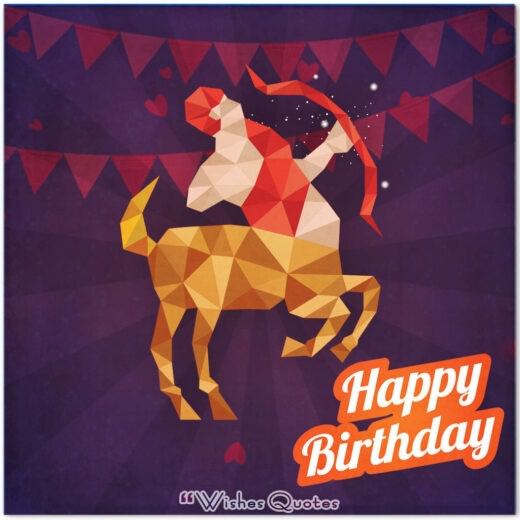 Amazing Birthday Wishes for Sagittarius Man
Your superpower is just being you. A birthday toast to a hard-driving, brutally honest warrior with a heart of gold.
It's impossible to persuade a Sagittarius to do something they don't want to do. But I hope you can be persuaded to have fun today. Happy birthday to you.
Aim high, my friend, and blaze a trail for us as you have done in so many ways in your remarkable life. Cheers on your birthday.
Can you be convinced to take the time off today to celebrate your birthday? Not likely, but here's a rousing thank you for all that you do.
Your pursuit of new adventures and innovative ideas is impressive. This makes you a very interesting storyteller. Please slow down a bit today and regale us with your tales as we toast your achievements.
We can barely keep up with your energetic push to do more, see more, and win more. But we are human, and you are obviously something else. Happy Birthday, my dude!
Keep calm and celebrate the big adventure that is your life. We hope next year brings even bigger adventures. For now, Happy Birthday!
You have more energy than the Energizer Bunny. On your birthday, let's light up the night as we celebrate another year of big wins.
Before there was Google, you were our walking encyclopedia of all things intellectual and esoteric. A toast to the good times we have shared over the years. Happy Birthday!
Birthday greetings to a fun-loving adventurer who lights up the room with laughter and sheer joy at being alive.
Lovely Birthday Wishes for Sagittarius Woman
When the going gets tough, we look up to you for inspiration. Happy Birthday to a Sagittarius goddess.
As far as I know, you are the center of the universe. If anything is happening, it's happening around you. On your birthday, all roads lead to your celebration.
May your birthday be filled with fun and adventure. May the rest of your years be packed with new pursuits to quench your thirst for knowledge. Cheers to a lovely lady.
To a trailblazing woman on her special birthday: May the unexplored trails never end. May your heart find what it seeks.
May the sun never set on your endeavors. May the spirit never fails you. May the power of your dreams take you to the pinnacle of success. Happy Birthday!
You are a joy to be around and a larger-than-life muse of all endeavors worth undertaking. Here's to a wonderful birthday.
You were born to change the world. You have made the world a better place just by being here. Happy Birthday.
Dear birthday lady: you give so much of yourself to everyone. You have touched lives and changed people. You deserve a happy birthday and many more to come.
Your life story is a long string of never-giving up narratives. Happy Birthday to an inspirational woman.
You aimed high and overshot the target several times. Happy birthday to a woman who thrives on challenges. We are in awe of you.
Sagittarius Sayings and Quotes
A Sagittarius friend will take you to the best pizza in town and the wildest adventure in the world.
Sagittarius won't mind getting in trouble if it's worth the ride.
Sagittarius is the life of a party.
Sagittarius have smiles that can brighten any room and will always try to make you feel like you belong.
Sagittarius may grow up, grow old. But they are always a wild child on the inside.
Sagittarius: Someone you want to sit next to on a 12-hour flight.
A Sagittarius can read people easily, so there's no hiding your feelings from them.
Sagittarius has no problem throwing the ugly truth at your face.
More Birthday Wishes and Cards