Aries Birthday Wishes and Messages
Looking for Aries Birthday Wishes? Browse through our fantastic collection of meaningful birthday wishes for Aries man or woman, friend, or family member. People born under Aries' zodiac sign (March 21- April 19) tend to have strong personalities. Bold, confident, and highly ambitious, Aries is unafraid to take charge of situations, no matter how unfamiliar. The ram symbolizes Aries, the perfect metaphor for the Aries personality – determined, aggressive, and born to lead. The ruling planet is Mars, and Aries is one of three fire signs. While Aries may be prone to explosive tempers, they can just as quickly be the life of the party.
Lovely Birthday Wishes for Aries Woman
Here's to the leader of our pack: May you have the biggest fireworks today and every day to show us the way.
Happy Birthday to the boss to end all bosses- an Aries woman!
What better way is there to celebrate a significant milestone than to party hearty, which is what we do whenever you're around. Happy Birthday!
You are an inspiration to me. I thrive in your reflected light. May you live forever—happiest of birthdays to you.
You're a spontaneous, lively, bold, and very confident woman. You're the most beautiful Aries I know. Happy birthday!
May your life be filled with adventures, challenges, and all the fun in the world.
To the bundle of joy and ball of fire which is also the world's greatest friend – Cheers on this special birthday.
You are a woman: I've heard you roar. You are a leader and so much more. Happy Birthday to The One!
You've been putting out fires so much throughout your life, you'll make short work of those birthday candles. Have fun on your birthday, and may you have many more.
On your special day, I hope you get whatever you desired to have. Happy birthday my beloved Aries girlfriend!
Here's to a woman who knows what it's like to lead – May you have the courage, the passion, and the grit to keep on rocking. Happy Birthday!
You said you didn't have the maternal instincts to nurture us, but you have that fire within you that burns so brightly. With that, you led us, guided us, and kept us on track. May your brilliance shine forever.
Amazing Birthday Wishes for Aries Man
Some people go through life barely making a mark. You go through life blazing a path so that others may find their way through. Happy Birthday, Aries Boss!
You're as warm, expressive, passionate and fiery, as an Aries man can be…and then some more! Happy birthday!
The ram is a symbol of strength, courage, and unbridled enthusiasm. You are all that and so much more, my friend. Cheers!
Happy Birthday to the Man of the Moment. Correction: Make that Happy Birthday to the Man of the Millenium! You are the best.
You are the boss to end all bosses. Please continue to lead the way. Happy Birthday!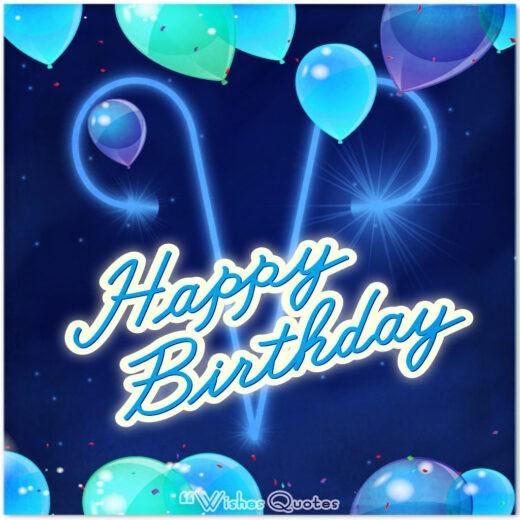 While other people see a problem, you see a challenge. You are a winner in life. Happy Birthday to a champion!
May you have a relaxing birthday today. There is enough time to conquer new worlds tomorrow and for the rest of your life.
I could wish you a life filled with love, happiness, and success, but you already have all that. So here's wishing you a life brimming with passion, madcap happiness, and colossal success.
I was warned that an Aries man believes only in "every man for himself." You do, but you took me with you. Thank you for everything you are and all that you do for us.
Happy Birthday to the man who brings so much fire and passion to everything he's doing, even if it's just grilling the burgers. Have a great party.
Happy Birthday, Aries man. Life is a big party with you in it.
Aries Sayings and Quotes
Aries demands love, for like the infant, without love, Aries dies. – By Linda Goodman
Aries needs a partner willing to set sail at a moment's notice – impulsive and action-oriented, he prefers not to plan and overthink a situation.  – By Lynn Hayes
Aries woman looks for strength and willpower in a man.  – By Therrie Rosenvaid
Aries continually needs to be reminded that "if winter comes, "….. the miracle of spring cannot be far behind. – By Linda Goodman
While Ariens are independent and love their freedom, they do not enjoy being alone. – By Lynn Hayes
Aries represents the East, the Day Forces – which is why most of them fight sleep, tranquility, rest, and resignation to Fate with such vigor. – By Linda Goodman
Aries is often a step ahead of us. A life that is too predictable makes them antsy. – Anonymous
Aries woman has a deep, hidden desire to be protected and defended by her man. – By Linda Goodman
More Birthday Wishes and Cards