Bride's Wedding Speech. The Ultimate Guide with Examples and Tips
A woman dreams about her wedding day even before she is ever asked the question. When the dream becomes a reality and her wedding day arrives it is important for her to share her thoughts and appreciation to the guests of her wedding. Usually during the dinner reception many toasts and speeches are made, this is the opportunity for the beautiful bride to grab everyone's attention and share what she needs to say.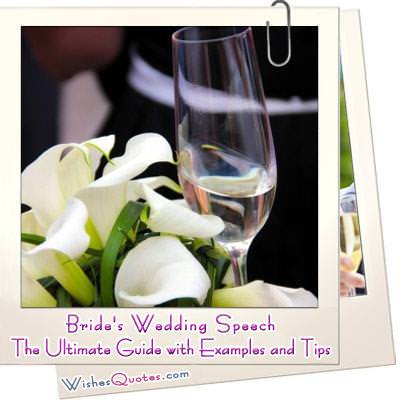 Tips for a Great Bride's Wedding Speech
Even if previous speeches have been made thanking the guests for attending, the bride should also thank the guests once more expressing her gratitude for having everyone there to share this special day.
A bride may also want to thank the groom's parents for welcoming her into their family and for trusting her with their son.
The bride should also say a few special words regarding her new husband and how much she loves and adores him.
It may also be nice to mention how she met her groom or add in a funny story the two of them share.
The bride can talk about how she has looked forward to this day for a long time and how it has exceeded her dreams.
The bride should try and keep the speech short and end it with a short toast.
Bride's Wedding Speech Examples
I know many of you are ready to eat, dance and get this party started, but I want to take a few minutes to thank everyone who made today possible. I want to start with my mom and dad and let them know how much I love them and appreciate everything they did to make today possible. I also want to thank my husband's parents for welcoming me into their family and trusting me to take care of their son. I want to thank all the guests who made it here tonight and who dressed up so nicely for our special day. Lastly, I want to speak to my adorable husband who I love so much. You mean the world to me and I am so blessed to be sharing this experience with you. I can't wait to start our new life together.
I know it's a little strange for a bride to say a speech at her wedding but I feel so compelled to thank everyone for making our day extra special. I want to start with my amazing husband; ever since I met you 6 years ago I knew that we were my soul mate. No one can make me laugh like you and no one understands me like you do. I am at my happiest when I am in your arms and I am so blessed to have you in my life and be your wife. Next, I want to thank my family and my groom's family for coming together and supporting our dream of getting married, we appreciate everyone's love and support. I want to thank my bridesmaids for agreeing to be by my side and for listening to me stress and complain over these past few months. You girls are amazing and I appreciate all you have done for me. Finally I want to thank all the guests who came today and for all your thoughtful gifts. We look forward to speaking with everyone again soon and we hope you all enjoy the reception.
Everyone sitting in this room has had an impact on me and the groom at some point in our lives. We wanted to spend this day surrounded by the people who know us and love us. We love you all and want to thank each and every one of you for coming out to participate in our wedding ceremony as well as the reception. Today has been truly amazing and it's only half ways over. Thank you all for the kind words and advice we have been receiving and for all the wonderful gifts we have received as well. This day has surpassed my expectations and I am so incredibly happy to now be known as Mrs.Smith. To my handsome hubby, I love you more than words can describe but I have a whole lifetime to show you the love that is brewing inside me. I can't wait to start my life with you and to start our own family together. I want to raise my glass to the most handsome man in this room, Mr.Bob Smith, my best friend and now my husband. I love you.
I wasn't planning on making a speech this evening, but listening to all the kind words our friends and family have said has motivated me to say a few kind words of my own. I am so grateful to have this opportunity to find love with someone who loves and appreciates me just the way I am. For anyone who knows me it is no secret how emotional and passionate I can be at times, but my husband has proven to me that he is willing to put up with my rollercoaster emotions and love me anyway. I want to thank everyone for coming tonight and I want to thank both our parents for all the support and funding for this wedding. Most of all I want to let me husband know that I will always love him and remain faithful to him. I will always compromise and do my best to work through any argument we may have in the future. I can't wait for our journey as husband and wife to begin, and I promise to be the best woman for you that I can possibly be.