Thank You Notes for Birthday Gift
Be nice and send a thank you message to everyone who bought you a gift on your birthday. Just imagine how much your friends would have thought about your birthday and you to bring you that amazing birthday gift, so sending a thank you note is a must. It is always important to acknowledge a gift in some way. This is more than just the polite thing to do. It shows you genuinely care that the gift giver thought of you on your special day. Gifts are a way for others to show that they care. A message of thanks lets that person know that their gift was happily received. You could send a greeting card to show your thanks, but this isn't always necessary. Instead, you can send a sweet, sincere message of gratitude through email or post it on a social media site. Find the perfect words! Browse our collection of wonderful samples and great tips for sending an amazing thank you note for the special birthday gifts.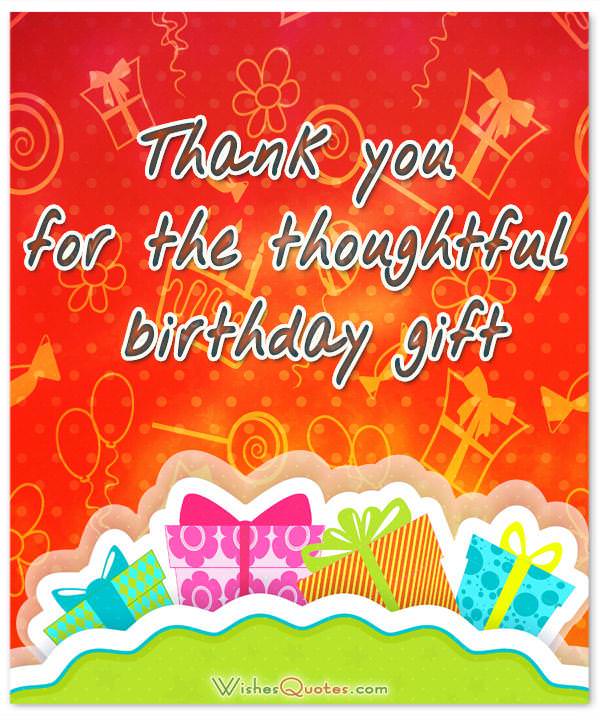 I just wanted to make sure to let you know how much I love the gift! It is perfect! You know me so well.
What a gorgeous birthday gift! Thank you so much for taking the time to help make my birthday extra wonderful.
What a wonderful surprise! Your generosity overwhelmed me in the best of ways, and I am so thankful for the great gift!
My birthday was already great because I saw you, and then you surprised me with that fantastic gift. I am so grateful.
Your gifts to me are always so thoughtful and fun. You did it again this year! Thank you.
Your creative side really showed in the artistic gift you chose. You know how much I love that!
I hope you know how much your gift means to me. It made my heart so happy that you thought of me.
Your generosity for my birthday blew me over. I am still happily stunned about it. Thank you!
My birthday was just a usual day until I saw your gift to me. It made my birthday this year so special!
You gave me such an amazing present that there are not enough words in the world to thank you.
The color was my favorite, the fabric so soft, and the fit is just perfect. Thank you for thinking of me on my birthday.
When I woke up on my birthday, I was excited, but I had no idea just how exciting the day would become. I love your gift to me!
All birthday presents are wonderful, but yours really made my day! Deepest thanks, my friend.
So grateful for all you have ever done for me, and for your gift on my birthday.
It was a very happy birthday, indeed, and you are a big part of the reason for that. Thank you for your gift.
Thank you for taking the time to make my birthday so fun this year. I love the gift!
You have such a knack for choosing the ideal gifts for me. Thank you for everything.
Thank you so much for going all out for my birthday. What a wonderful gift! I shall cherish it for many years.
Your gift to me was the perfect blend of thoughtful, practical and beautiful, and I am so grateful.
My home's decor really needed something to warm up the ambience. Your gift was perfect.
You are always so generous and kind. I loved your very thoughtful gift, and I appreciate you.
It meant the world that you thought of me on my birthday. The gift is just perfect as are you.
You have such exquisite tastes in things and I was stunned by the beautiful gift. Heartfelt gratitude.
It is as if you peeked at my secret list of birthday wishes! Your gift was wonderful and I am so grateful.
Thank you for the baby's new outfit. She looks adorable in it and the color and size are perfect.
My friends are so awesome and I am so glad you are one of them. The birthday present is so fun and thoughtful.
Friends like you are one in a million, and not just because of the gifts you give, but this gift was especially wonderful!
You really won me over with the thoughtfulness of your gift. Words don't even describe how thankful I am for that.
Words of Appreciation for Birthday Gifts
Are there no limits to your generosity?
You are thoughtful and generous in your gift giving.
Thank you for the delightful birthday gift.
You must have read my mind, because your birthday gift is exactly what I wanted.
You picked the perfect birthday gift for me.
Thanks for being thoughtful.
Your birthday gift means a lot to me.
I thank you from the bottom of my heart.
You are one of the most generous people I know.
If anyone deserves thanks, it's you.
If you could see my face right now, you'd see a look of gratitude.
Thank you for showering me with birthday gifts for the baby.
You made my birthday a special day.
I am grateful for you and your generosity.
Thanks for thinking of me; you made my day.