How to Ensure a Happy Thanksgiving
Celebrated every year on the fourth Thursday of November, Thanksgiving continues to be a holiday that many Americans look forward to. Synonymous with turkey, family and friends, football and festive meals; it also reminds people to give thanks and enjoy each other's company. Read on for a few of thanksgiving traditions that people still follow since 1621. The menu is prepared in advance and includes menu dishes such as roasted turkey, stuffing, mashed potatoes, cornbread, cranberry sauce and sweet potatoes. Some people also serve pumpkin, sweet potato, apple and pecan pies as dessert. For those who prefer to go vegetarian, a vegetarian turkey made from tofu is a popular option.
To make the table festive, you can make a flower arrangement, turkey napkin holder or buy a thanksgiving center piece. One of the best ways that people get to enjoy a happy thanksgiving is when they meet with family. Many people live far from each other, and this is a time they get to travel to come together and celebrate. It's also a good time to express your love for each other and to catch up on many other things. You can start a family gratitude game with family members. Another wonderful way to celebrate thanksgiving is to start a journal that includes all the good things that you are grateful for in the year. How would this turkey day be without wishes? The wishbone is attached to the breast meat in the chest and becomes dry and brittle when the meat has been removed. Two people take one end of the bone, make a wish and pull till one person gets a larger part of the bone. That lucky person gets their wish!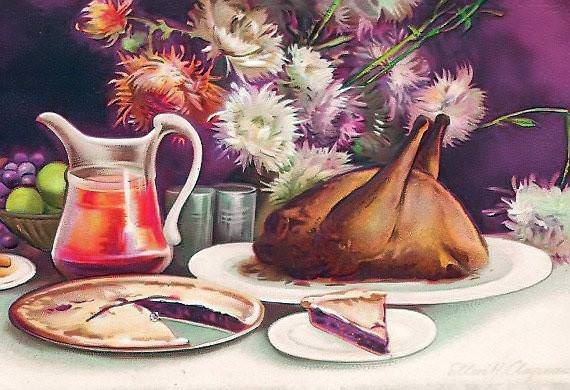 A happy thanksgiving would not complete without some fun activities. Some families watch Macy's Thanksgiving Day Parade or a televised football game. The parade, which began in 1924, involves giant helium-filled balloons, marching bands, songs floats and Broadway musicals performances. Others choose to take walks, naps, watch a movie or play board games together. Thanksgiving is also a holiday that involves helping the less fortunate. Some families participate in food drives; help prepare and serve food in homeless shelters or give donations. This is an important way to teach your children how to give and be grateful. The White House is not left behind during this festive season. The President receives a live turkey as a gift or another alternative. This national turkey is then pardoned and allowed to live in a farm peacefully. So get off the computer get outside and enjoy time with friends and family. Have a wonderful Thanksgiving everyone!