World Smile Day
World Smile Day is celebrated on the first Friday in the month of October every year. The original smiley face logo was created by commercial artist Harvey Ball from Worcester, Massachusetts in 1963. Concerned about the commercialisation of the quickly iconic graphic, Harvey established Smile Day, which encourages you to participate in acts of kindness and friendliness, and to smile and make others smile. The World's first World Smile Day was held in the year 1999 and has been held annually since.
After Harvey died in 2001, the "Harvey Ball World Smile Foundation" was created to honour his memory. The slogan of the Smile Foundation is "improving this world, one smile at a time." The Foundation continues as the official sponsor of World Smile Day each year. A smiley, or happy face, is a stylized representation of a smiling human face. It is commonly represented as a yellow (many other colors are also used) circle or sphere with two black dots representing eyes and a black half circle representing the mouth. "Smiley" is also sometimes used as a generic term for any emoticon. People all around the world cracking smiles today, making the world a better place.   So … don't just grin and bear it – give a real smile and spread a little kindness on World Smile Day!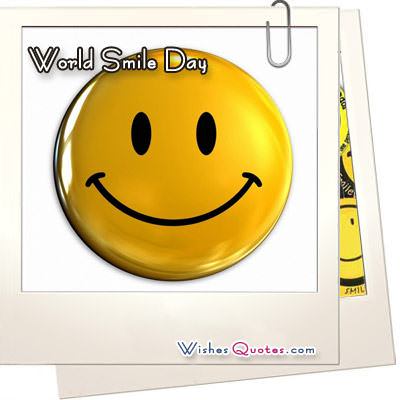 Take this opportunity and send wishes, smile quotes and greetings in this special day.
Smile Day Messages
Do an act of kindness. Help one person smile!
It is a
S"imple"
M"ind touching"
I"nteractive"
L"ong lasting"
E"ffect which wins the hearts..
Yes..It's your "SWEET SMILE"
So Keep smiling always.
If you see someone without a smile, give them one of yours !
The most beautiful thing is to see a person smiling, but even more beautiful is knowing that you are the reason behind it.
If I was given a wish today, I would wish to just have a glimpse of your smile. That alone can give me happiness for a life time.
How can I find a words of wishes, which expresses my feelings to your way. Your smile brightens my life, even more day by day.
The best medicine for the best health is the best smile. So keep smiling!
Smile, It Will Make You Look Better. Pray, It Will Keep You Strong. Love,It Will Make You Enjoy Life.
I Smile Not Because I Think I Look Pretty When I Do. But I Smile Because …You Smile Too When I Do.
Every Little Smile Can Touch Somebody's Heart… No One Is Born Happy… But All Of Us Are Born With The Ability To Create Happiness.
Every time you smile at someone, it is an action of love, a gift to that person, a beautiful thing.
A smile starts on the lips. A grin spreads to the eyes, A chuckle comes from the belly; But a good laugh burst forth from the soul, Overflows, and bubble all around….
Don't cry because it's over. Smile because it happened.
Sun glows for a day, candle for an hour, matchstick for a minute, but a good day can glow forever, so start your day with a smile!