Independence Day is one of the important days in the history of any country. 4th Of July is therefore an important day for the residents of the United States as the country became free and declared its independence on this special day. This independence was first enjoyed in the year 1776 and could be possible only by the efforts made by the leaders and the great personalities. Their efforts as well as sacrifices finally broke the chains to become a free nation. This day is celebrated with great pomp and show with a number of events being organized to showcase the culture and the traditions of the country. Being the Independence Day, people involve in a number of activities like parades, concerts, fairs, public events, gatherings and lots more. The entire country is happy as it is a national holiday for them. People wish each other on this great occasion and celebrate this day with full enthusiasm. As it is the historic day for the United States therefore speeches are delivered by the important people of the country to congratulate the people on this special day.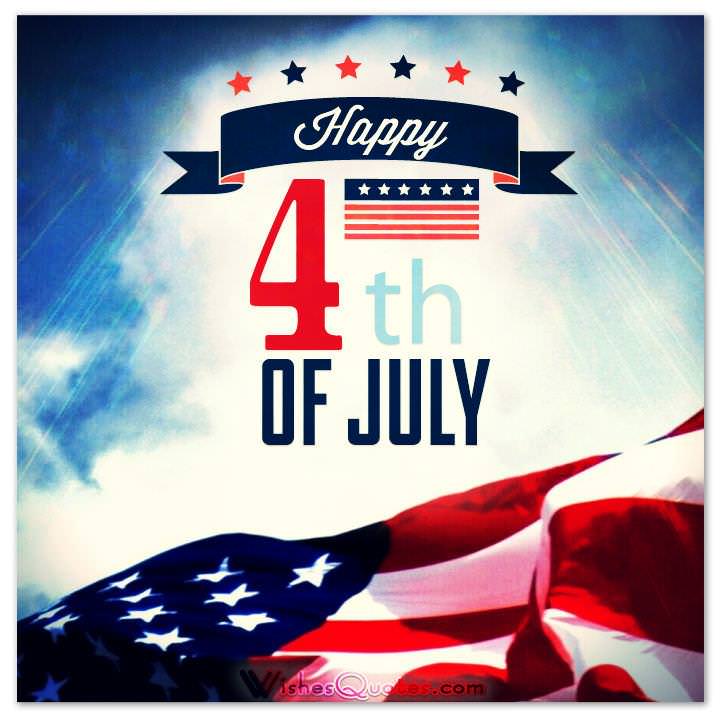 Not only the adults but even kids are fascinated about this day. They look forward to this day as one of the important days in the history of the country with its celebrations being continued by the generations to come. If you want to make this day special by greeting one another, then here are a few 4th of July wishes that you can use. You can either send SMS | Text Messages through your mobile phones or also write these lovely messages in a card. Have a Happy 4th of July!
"On this special day, let us take come forward and make a promise to take our nation on the path of prosperity so that people can live a happy life. Happy independence day to all."
"This Independence Day, take a step back and cherish your life and the country you live in while appreciating the sacrifices people made to give us independence today."
"Don't take your freedom and independence for granted, someone had to work hard and make many sacrifices for it."
"Enjoy the blessings of freedom and independence, but also do your part and work hard to appreciate it."
"4th Of July is a great day for our country and I salute the people whose sacrifices have made this possible. Just a token of thanks to pay homage to their sacrifices and make them feel special."
"Make this Fourth of July memorable by counting your blessings and truly appreciating your freedom."
"The independence that we enjoy today would not have been possible without your efforts, so a big thank you to the leaders who have fought for the independence and sacrificed their lives. Hope the country always prospers and grows by leaps and bounds."
"This independence day brings forth a new hope to make our tomorrows most beautiful and cherished. Wishing everyone a very happy 4th of July."
"Independence is one of the valuable gifts that one can enjoy. Hope that God's blessings are always with us so that the coming generations can also enjoy the fruits of independence. Enjoy and have a great day."
"Take time on this special day to understand what independence means to you. Happy July 4th!"
"We are very lucky to be born in America which is famous for its rich culture and traditions. While celebrating the Independence Day we promise to preserve the reputation so that the freedom fighters can feel proud of us."
"May our country always flourishes and celebrates many more years of independence. Wishing you all a very happy and blessed independence day."
"Happy 4th of July! I feel so proud to be a part of the most wonderfull country in the world."
"Let each one of us make a promise, that as long as we live, we will be good citizens of our country in the best of our capabilities and we will help America grow into a better nation with each passing day."
"Freedom is a gift, given to us by our freedom fighters. They had to struggle to win Independence and sacrificed their whole lives so that we could live in a free country. Let their sacrifice not go in vain. Let us promise to work hard towards making America a better nation each day free from corruption and violence. Happy Independence day to all my brothers and sisters."
Didn't find what you were looking for?
Custom Search
If you liked what you read, please share it. It all helps to keep this site going!.