Easter is the Christian holiday that celebrates the resurrection of Christ. The day of Jesus' crucifixion is signified by Good Friday, the Friday before Easter. Three days later, on Easter Sunday we celebrate the day Jesus Christ arose from the grave and the tomb was found empty. Easter is celebrated every year in the Spring and gives us hope of eternal life. It is through Jesus' crucifixion and resurrection that we can be forgiven of our sins and have salvation from death. Easter is a cherished time of year and a time to let family and friends know how much they mean to you. Sometimes the words escape us and we know not what to say. Join in the celebration and learn how to say Happy Easter in over 70 languages from around the world.
Afrikaans Geseënde Paasfees
Albanian Gëzuar Pashkët
Arabic فِصْح سعيد
Aromanian Ti multsã-anji Pashtili! Hristolu-nye! – Dealihea cà-nye!
Basque Ondo izan Bazko garaian
Breton Pask Seder
Bulgarian честит Великден (čestit Velikden)
Chinese(Cantonese) (Fuhkwuhtjit faailohk)
Chinese(Mandarin) (fùhuójié kuàilè)
Catalan Bona Pasqua
Cornish Pask Lowen
Croatian Sretan Uskrs
Czech Veselé Velikonoce
Danish God påske
Dutch Vrolijk Pasen, Zalige paasdagen, Zalig Pasen
Esperanto Feliĉan Paskon
Estonian Häid lihavõttepühi
Finnish Hyvää pääsiäistä
French Joyeuses Pâques
Gaelic(Irish) Cáisc Shona Dhuit/Dhaoibh, Beannachtaí na Cásca
Gaelic(Manx) Caisht sonney dhyt

Gaelic(Scottish) A' Chàisg sona
Galician Boas Pascuas
Georgian გილოცავ(თ) აღდგომას (gilocʻav(tʻ) aġdgomas)ქრისტე აღდგა (kʻriste aġdga)
German Frohe Ostern
German (Swiss) schöni Oschtere
Greek Καλό Πάσχα (Kaló Páskha)
Hebrew (chag pascha same'ach) חג פסחא שמח
Hindi शुभ ईस्टर (śubh īsṭar)
Hungarian Kellemes Húsvéti Ünnepeket
Icelandic Gleðilega páska
Indonesian Selamat Paskah
Italian Buona Pasqua
Japanese イースターおめでとう (īsutā omedetō)
Jèrriais Jouaiyeux Pâques
Korean 행복한 부활절이 되시길 (haengpoghan puhwarchǒri toesikir)
Latin Prospera Pascha sit
Latvian Priecīgas Lieldienas
Lithuanian Su Šventom Velykom
Maltese L-Għid it-tajjeb
Marathi शुभ ईस्टर (śubh īsṭar)
Norwegian God påske
Persian عيد پاک مبارک
Polish Wesołych Świąt Wielkanocnych
Portuguese Boa Páscoa, Páscoa Feliz, Feliz Páscoa
Punjabi ਈਸਟਰ ਖੁਸ਼ਿਯਾੰਵਾਲਾ ਹੋਵੇ (īsṭar khuśyāṅvālā hove)
Romanian Paşte fericit

Russian С праздником Пасхи (S prazdinkom Pasxi
Scots Happy Whissunday
Serbian Срећан Ускрс (Srećan Yskrs)
Sicilian Bona Pasqua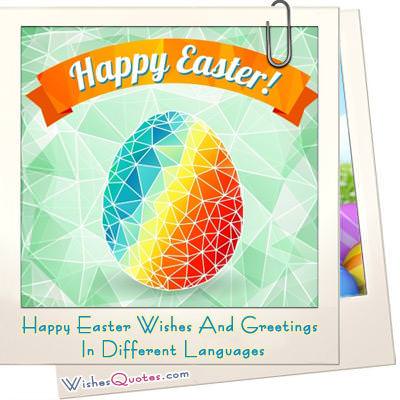 Slovak Milostiplné prežitie Veľkonočných sviatkov
Slovenian Vesele velikonočne praznike
Spanish Felices Pascuas
Swahili Heri kwa sikukuu ya Pasaka
Swedish Glad Påsk
Tagalog Maligayang pasko ng pagkabuhay
Thai สุขสันต์วันอีสเตอร์ (Suk-sənt-wən īs-toer)
Tigrinya ርሑስ ብዓል ፈሲካ (ይግበረልካ) (rHus bˋal fesika (ygberelka))
Ukrainian З Великодніми святами (Z Velykodnimy svjatamy)
Volapük Lesustanazäli yofik
Welsh Pasg Hapus
Yoruba Eku odun ajinde
Didn't find what you were looking for?
Custom Search
If you liked what you read, please share it. It all helps to keep this site going!.