Birthday Wishes for Grandpa
Make your grandfather smile with a cute way of saying Happy Birthday. Send your grandpa original birthday wishes with these message ideas from WishesQuotes.com writers. There is no one like Grandpa! Grandfathers are one of a kind. They are there to share their life experiences with their grandchildren and pass on invaluable wisdom, along with doses of humor and a whole lot of love. Sometimes they like to spoil grandchildren, but that is just part of the "job" as a grandparent. If your grandpa made your childhood extra special, let him know on his birthday how appreciated he is. One of the most thoughtful ways to do this is by sending him a handwritten birthday message that comes straight from the heart. Here are several message examples to help you if you are not sure what to say. Feel free to use them as they are written or customize them to match your grandpa's personality.
Grandpa, you always had such a great sense of humor and made me feel so special. I hope you know how wonderful you are! Happy Birthday!
Happy Birthday to the best grandfather that ever walked the earth. I am so grateful you are part of my life.
Today is your special day, Grandpa, and I want you to know that every day I spend with you is special. Thank you and Happy Birthday.
I always remember how much you seemed to care and all the ways you made our lives better. Happy Birthday!
To the best Grandpa: today is your birthday and I hope it is filled with love and joy, like you gave all of us through the years.
On this day, we all celebrate a man who always put a smile on our faces and made life better in so many ways. Happy Birthday!
When I think about my childhood, visiting you was one of the best things. Thank you for being such a wonderful grandpa!
How wonderful it is to be able to say Happy Birthday to such an amazing man. Grandpa, I hope you know how much you are loved and cherished.
You are the most amazing Grandpa, and I hope your birthday is just as amazing! I love you, miss you and hope to see you soon!
Happy Birthday to my awesome grandpa! You mean the world to me and I hope you know how much I love you.
There is a reason why grandpas are called GRAND. Thank you for all of the fun times, all of the wisdom and love. Happy Birthday!
I hope when I reach your age that I am as kind, thoughtful, funny and amazing as you are. Wishing you a very Happy Birthday!
Happy Birthday to my grandpa! I always looked so forward to going to visit you and spending time with you. May all your happy wishes come true!
Happy birthday to the man who always greeted us with a smile and made even rainy days fun. You are the best grandpa!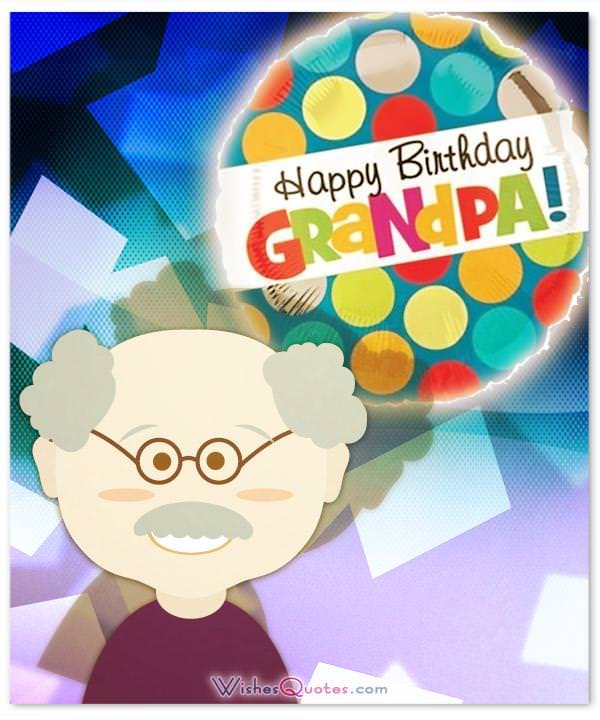 In your life, you have seen so much, and I always looked forward to all of your stories and the wisdom they held. Birthday Blessings, Grandpa!
When I am a grandpa, I want to be just like you. Thank you for being such a great example and giving me something to aspire to. Happy Birthday!
Grandpas are a special breed of people, and you were always there for me. I hope your birthday is so filled with joy and love.
I love you, grandpa! I hope you know how special you are to me and how I cherish all the happy memories you helped create. Happy Birthday!
On your birthday, I hope you get to all you want to do. You are the best and deserve only the best, grandpa!
You always went above and beyond when taking care of us. You brought joy and a lot of extra love to my childhood. Happy Birthday, grandpa!
Grandpa, even though words cannot fully convey how much you mean to me, I want to wish you the best and happiest birthday.
You taught me how to fish, but I learned so much more from you those days. Thank you for all you have done. Happy Birthday, grandpa!
You spoiled us, and mom said that's just what grandpas do. Now it is your turn to be spoiled. Happy Birthday!
You always made me feel like the most special kid in the world. Today on your birthday, I want you to know that you are the most special grandfather ever.
You gave the gift of your time and love to us, and I want to make sure you know how much you mean to us. Happy Birthday, grandpa!